There's nothing less motivating than dirtying up a ton of dishes for dinner, especially when you're not even in the mood to cook. I know you guys are busy and trying to stay healthy, so I wanted to share with you some of my favourite healthy skillet recipes; and, they're not just dinners.
---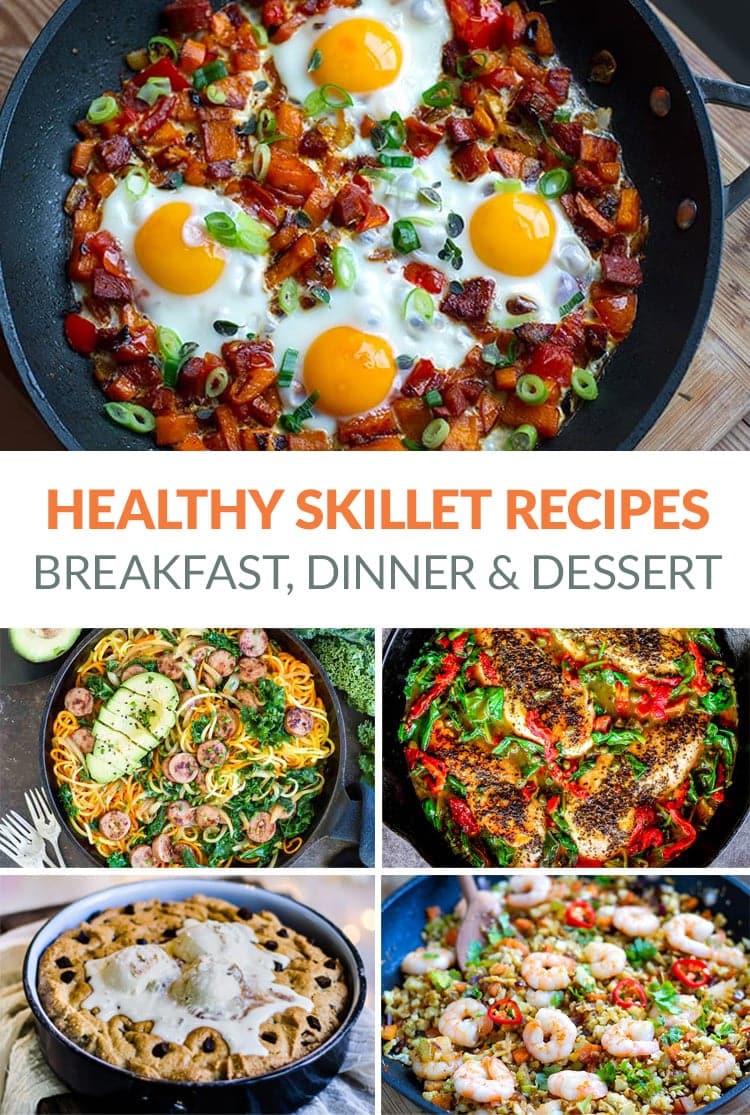 These dishes are all complete meals and require nothing more than a skillet or a large frying pan and a spatula. You'll have minimal clean-up and maximum flavour. Ready? Let's get into it.
Breakfast skillets
Breakfast is the ultimate skillet meal if you ask me. Baking or steaming eggs atop a bed of fatty chorizo and starchy sweet potato screams comfort to me, and it leaves me full for hours and hours until lunch. You can easily roast sweets ahead of time to save a few minutes in the morning and simply crack the eggs then, or savour this dish for a slow weekend brunch.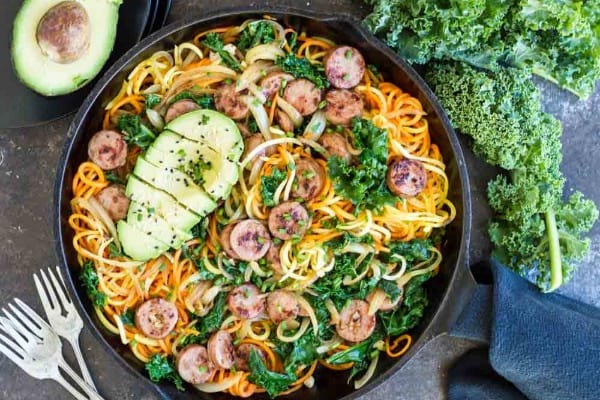 Spiralizing sweet potatoes will make this meal exceptionally fast to cook. Add in some kale for green power, some healthy fats to cook with, sausage for protein and avocado just because it's delicious. This meal is truly a stunner! Save time by prepping the sweet potato ahead of time and sealing in an air-tight container for easy starch additions to many meals.
Breakfast without eggs? Yes, please! Many people who follow the autoimmune protocol can't have eggs, making breakfast a rather challenging endeavour. With Moroccan spices and flair, this sausage hash is hearty, filling and flavourful without eggs. The added raisins and cinnamon give it a touch of sweetness, too.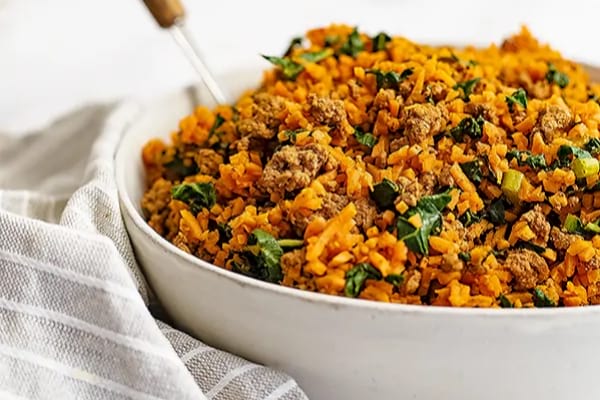 No doubt, sweet potato is a very popular addition to skillet breakfast dishes. In this one, you can rice it for a twist on the conventional methods of chopping or even spiralizing. Tossed with grass-fed ground beef and kale, this 3-ingredient recipe hits all the notes and you can spice it however you like.
This meal is absolutely perfect for fall, combining lean turkey, sweet apple and flavourful caramelised onions for an interesting twist on the traditional breakfast hash. Of course, you can substitute turkey for any ground meat or sausage you like. Use some fresh ginger while cooking, and garnish with fresh sage for the best results.
Brussels sprouts, sausage rounds, red pepper and our dearly beloved sweet potato provide an incredibly micronutrient-rich base for protein-packed eggs. This meal is a great way to clean out the fridge – just add veggies you have that need to be used up to customise this to your needs.

Spaghetti squash is the perfect base for a variety of meals – not just mock pasta dishes. I love its versatility for breakfast skillets like this one. This one is low-card, made creamy with coconut milk and spicy with hot sauce. Add some sesame seeds and fresh dill for a whole lotta zing and crack a few eggs on top to complete.
Fish & Seafood Skillet Recipes
Lemongrass is a beautiful and fresh flavour, adding some Thai inspiration to any meal. I use it in this sauteed cauliflower rice with shrimp to create unbeatable aroma and taste. There is plenty of finely chopped veggie material in there, giving it a fried rice vibe while the red chilli keeps things spicy.
Tangy kalamata olives and lemon, fresh and juicy cherry tomatoes, flaky white fish and creamy feta cheese? Yes, please. This is like a warm Greek salad, made with ease in a single pan. It's a great dinner packed with omega-3s and stunning colour.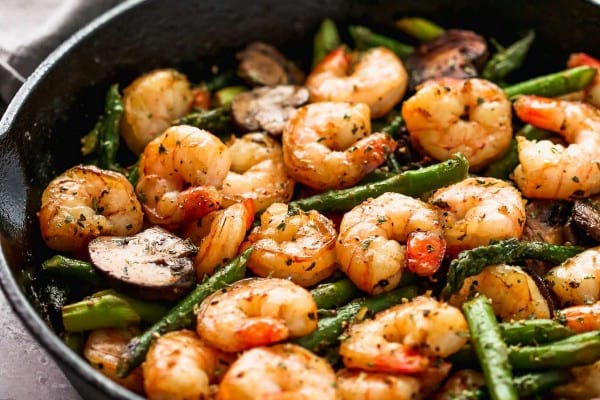 This skillet meal is a summery dream come true with crisp, slightly charred asparagus, garlicky shrimp tossed in oil or butter and meaty mushrooms. This one is low-carb and takes just around 20 minutes from start to finish. Winner, winner, seafood dinner!
Meat & Poultry Skillet Recipes

Korean food is undeniably delicious. However, most sauces include lots of sugar and soy. This dish reinvents the wheel without those ingredients, recreating the perfect comforting street food classic you love with whole food components.

Sun-dried tomato and lemon partner up for a creamy and zesty sauce with a subtle sweetness to stew chicken breast to tender perfection in this healthy skillet meal. Add in some greens at the end to wilt and you'll have a colourful rainbow of a meal in no time.

Apples and chicken thighs stewed in honey mustard? You really can't go wrong with this luscious fall favourite. Add in some onion for a boost of flavour and garnish with fresh herbs. You just need a few simple ingredients to make this seasonal magic happen.
This is one of my go-to quick and easy meals because the ingredients are easily interchangeable and the classic Asian-inspired flair comes with it quite naturally, utilising standard stir-fry pantry staples like fish sauce, coconut aminos and a squeeze of lime juice to create a deep and rich flavour profile.

Tiny game hens pack big flavour in this dinner for two. Roasting the hens atop a bed of hardy veggies will infuse them with even more flavour than you thought possible, and it couldn't be simpler to make. Lemon, rosemary, garlic and thyme bring out the best in this poultry recipe.
Spaghetti and meatballs, all dressed up in paleo fashion! This awesome meal features juicy turkey meatballs seasoned to perfection and smothered in garlic butter with zingy, lemony zucchini noodles to pair them with. Better than spaghetti, because this is a one-skillet affair.

This taco skillet makes it easy to create taco salads reminiscent of Chipotle at home. You can also load up your favourite grain-free or gluten-free tortillas. Just add some chives, guac and sour cream if you're feeling frisky on top for spicy and flavourful taco meat full of veggies and spices.

This spin on a takeaway staple is free of junk and far more affordable to make at home, even with grass-fed beef. You'll want to bookmark this one for its ease and amazing flavour for sure!
Dessert skillet recipes
Skillet cookies are the most perfect food – prove me wrong! This giant chocolate chip cookie recipe is perfectly paleo-friendly but just as indulgent as the classic version. It's best served with melting coconut milk ice cream on top right out of the oven, but it's equally as good the next day (if you have any left).
If you prefer a brownie to a cookie, here is the recipe for you. This fudgy recipe is designed for a small cast-iron, making it a suitable dessert to share. Just take your spoons and dig right in… and don't worry about saving any. No refined sugar or grains means guilt-free, right?
It doesn't get much easier than this. If you love skillet meals like I do and want to share these easy, inspiring and nourishing recipes, make sure to do so by spreading it on Facebook or pinning these recipes to try later!