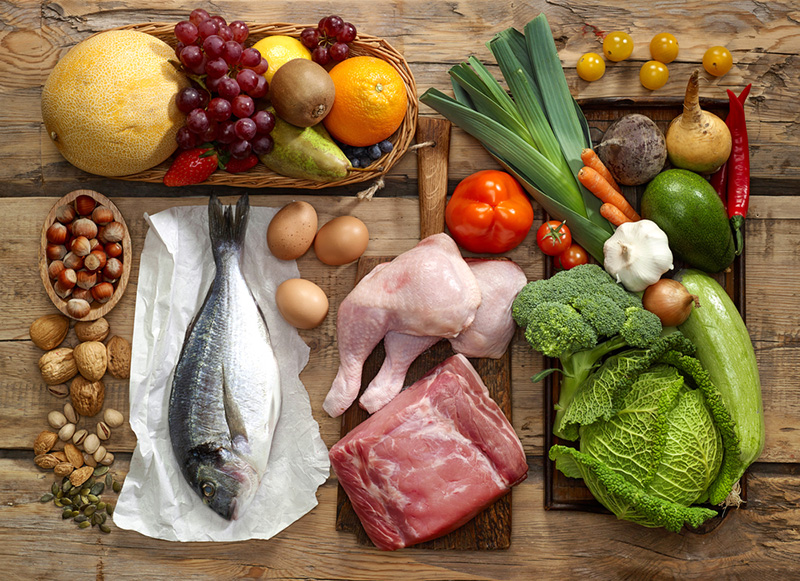 I've decided to put together a sample paleo shopping list for anyone starting or following a paleo diet, or who simply wants to stock up on balanced, healthy foods that are versatile, most affordable and easy to find.
This shopping list is based on what I would regularly buy and cook with. It includes pantry staples, fats and oil, protein essentials, fresh vegetables and fruit and even a few treats. You can tailor this list to your own weekly needs or simply use it as a base when starting out with paleo.

FOR THE PANTRY: JARS & TINS
Tinned tomatoes/passata – I use these in stews, soups and sauces. Try to buy organic if possible as tomatoes are at the top of the dirty dozen when it comes to pesticides. Avoid added sugar.
Tinned sardines and salmon – High in beneficial Omega-3 fatty acids and protein, these are handy to add to your lunch box salads, breaky or to have as a snack. Choose fish tinned in brine, water or olive oil. My favourite way to eat sardines is here.
Gherkins – Add crunch and flavour to salads and deli meat rolls. Read the labels and choose those lowest in sugar. Also olives and capers.
Sun-dried tomatoes – Great in omelettes, salads and as a snack. Look for dried or canned sun-dried tomatoes in olive oil. Avoid soybean or sunflower/canola oil. Capers are also great and paleo friendly.
Apple cider vinegar, balsamic vinegar or white wine vinegar – Use in salad dressings or to add to dishes for extra acidities. Apple cider vinegar can be mixed in with water to drink.
Coconut milk or cream – Use it in soups, curries, smoothies, baking and mousses. I recommend coconut milk with at least 60% coconut.
Coconut aminos – Savoury condiment that is used instead of soy sauce. It's slightly sweeter than soy sauce. Use in stir-fries, stews, dressings and to marinate chicken and meat. You can find coconut aminos in health foods stores and online.
Coconut water – Use instead of sports drinks or if dehydrated. It's also great as a mid-morning snack.
Fish sauce – Look for a naturally fermented variety and use to add saltiness and umami flavour to stews and soups, in stir-fries, Asian salad dressings and marinades.
Hot chilli sauce – Spice up your dishes with a bit of chilli.
Mustard – Hot English, Dijon or Wholegrain can be used. Read the labels. Use for marinades, rubs, dressings, sauces and as a side condiment with meat or fish.
Natural sweeteners – Raw honey is my preferred sweetener because it's full of enzymes and antioxidants and has anti-viral, anti-fungal and anti-bacterial properties. Maple syrups, coconut syrup, and coconut sugar are good alternatives as well. Use in small amounts as it's still technically sugar. Natural green leaf stevia powder is a good alternative to sugar, but like with any sweeteners, use in moderation as our brains still register the sweetness, which can result in insulin response.
Tahini – Sesame seed paste with a lovely, smoky flavour and only needs to be used in small amounts to add the desired flavour to salad dressings, dips and sauces.
Tamari – A healthier version of soy sauce without gluten or wheat. Choose naturally fermented tamari and use in small amounts. Avoid if you can't tolerate any soy.
Red wine – I like to have a bottle on hand so we can have a glass with dinner or when friends come over. I also use it in cooking from time to time.
FOR THE PANTRY: FATS & OILS
Coconut oil – Cook with it (heat stable), eat it, drink it, rub it on your skin. Long shelf life. Learn more about the benefits of coconut oil here.
Macadamia oil – Great, neutral tasting oil for cooking (has a much higher smoking point in comparison to olive oil or butter) and is great for homemade mayonnaise.
Virgin olive oil, extra olive oil – Use for low to medium heat cooking (below 180 °C/355 °F) and extra-virgin olive oil for cold uses like in salads, dips and to drizzle over things.
Ghee – Use for all cooking needs, including baking. Heat stable, long shelf life. It's mostly fat with hardly any lactose or casein left so usually safe for those with dairy sensitivities.
Butter – Use for low to medium temperature cooking, baking and to melt over vegetables and meats. Butter is very high in fat and is well tolerated by dairy-sensitive people.
Sesame oil – Add a teaspoon to complete a stir-fry and curries, and to make Asian salad dressings. It can also be used in dips and smoothies, it has a lovely, smoky, nutty flavour.
FOR THE PANTRY: DRY GOODIES
Almond meal – For your baking needs, although this should be kept in the fridge.
Beef jerky – Great as a snack, especially with some nuts. Look for grass-fed beef jerky or biltong if possible.
Nuts – If you can afford macadamia nuts, they have the healthiest Omega-6/3 profile. I also like almonds, hazelnuts and brazil nuts (high in selenium). With nuts, I suggest to pre-soak them for 4-6 hours to remove phytic acid and to activate the enzymes, which makes these nuts easier to digest. After soaking, dehydrate in the oven at very low temperature for 2-3 hours, until crunchy again. Store in the fridge for a longer shelf life. Cashews are great for making paleo cheese and creamy raw desserts.
Coconut flour – Use in baking and to make pancakes. Coconut flour is very moisture hungry so use a lot less than regular flour to avoid dry, porous baked goods.
Dark chocolate – Buy good quality dark chocolate with over 85% cacao content and dairy free or raw variety, if you can find and afford them. You can then make these jaffa rum balls!
Gluten-free baking powder – Add a little to baked goods to help them rise and fluff up.
Raw cacao powder – Whip up a quick hot chocolate or use in baking and shakes. Regular cacao powder is also fine.
Seeds – I love sesame seeds (high in calcium) and pumpkin seeds (vitamin E). Vegetable, chicken or beef stock – Look for brands using natural ingredients, usually found in the cool section of the store. Make your own from leftover vegetables and bones.
Vanilla extract – Use in desserts and baking, including pancakes. Savoury dishes too.
Tapioca flour – It's pure starch and is high in carbs but a few tablespoons can go a long way in paleo baking. Use in combination with almond meal or coconut flour. Also, use to thicken sauces. Arrowroot powder/flour is very similar and can also be used.
Tea and coffee – Green tea and coffee for mornings, chamomile and mint for afternoons.
Not strictly paleo but I often buy quinoa and white rice as my partner eats 80% paleo and needs more carbohydrates due to his rather active lifestyle.
Other favourites: almond butter, kelp noodles (zero carb noodles), chia seeds, buckwheat and buckwheat noodles (80/20 paleo)
FRESH PRODUCE: PROTEIN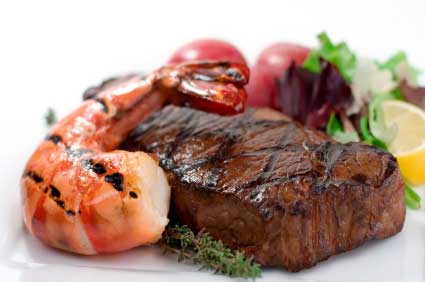 These are my favourite sources of protein that I use in many meals.
Free-range eggs – lots and lots of eggs.
Minced/ground grass fed beef – Buy in bulk and keep some in the freezer. Beef mince is highly versatile and can be used in many cuisines. Check out our top 30 paleo beef mince recipes here.
Lamb meat (loin,chops, shanks or cutlets) – I eat lamb once a week.
Gluten free sausages – Choose sausages made from grass-fed or free-range meat and check for additives and preservatives. They're handy for a super quick meal.
Whole free-range chicken – Otherwise a bunch of chicken thighs and wings. I like to cook with the whole chicken, skin and all, but breast or thighs are just fine. Try my fall off the bone chicken soup recipe.
Fish (preferably oily) – Make it a habit to have grilled, pan-fried or baked fish once a week. We go for salmon or trout but white fish is fine as well. Alternatively, get a packet of smoked salmon. Find my fish & seafood recipes here.
Cooked or raw prawns – I often keep some for the freezer.
Free-range bacon – We don't eat bacon every day but we certainly enjoy it at least once a week. Look for free-range bacon with as little additives as possible.
Pork – I buy a whole pork shoulder or leg and then roast it slowly in the oven until the meat is very tender. Otherwise, I cook it diced up with spices in a slow cooker until very soft. Then flake it apart with a fork and you have a batch of pulled pork which can be used in different ways.
Greek, full-fat yoghurt or coconut yoghurt – I eat yoghurt 1-2 times a week on days I don't feel like eggs in the morning or as a snack. If you're sensitive to dairy, please stick with coconut yoghurt or go for kombucha instead.
Halloumi cheese – I eat a little bit of cheese, especially if made from goat's and sheep's milk, like halloumi. I simply grill it to serve with eggs, in an omelette or in a salad.
Aged Parmesan or Pecorino – Aged cheeses contain very little lactose and are great sources of vitamin K2 and probiotics. I add a little to salads, sauces and dips or to have as a snack.
Good quality, dried salami or ham – Occasionally we buy good quality cured meats to have as a snack, for entertaining or to add to omelettes in the morning.
Not as regular but I really enjoy making a big pot of mussels marinara and I like to grill or roast some duck or turkey as an alternative to chicken. So these are my other go-to protein choices.
FRESH PRODUCE: FRUIT & VEGETABLES
I could list a lot more vegetables, berries and fruit but these are my essentials based on their nutritional value, versatility and accessibility.
Apples
Avocados
Bananas
Berries (often frozen)
Broccoli
Brussel sprouts
White or red cabbage – I make coleslaw at least once a week and use the rest in a stir-fry
Carrots
Cauliflower
Celery
Cucumber
Garlic
Ginger
Kiwifruit
Kale or swiss chard
Lemons and limes
Mixed lettuce leaves
Mushrooms
Onion
Pumpkin
Radishes
Red or yellow peppers
Spinach
Sweet potato
Tomatoes
Other favourites include beets, celeriac, pears, green beans, peaches, apricots, frozen peas and spinach
FAVOURITE HERBS & SPICES
I have an extensive collection of dried herbs and spices but it's not necessary to have every single spice and herb in the world to be a great cook. Here is my selection of the most useful herbs and spices. Want to learn more about cooking with herbs and spices? Check out my Herbs & Spices eBook here.
Fresh herbs – coriander/cilantro, parsley, basil and dill, fresh thyme is amazing.
Bay leaves
Black pepper
Chili flakes
Cinnamon powder
Ground coriander seed
Ground cumin powder
Curry powder (mild)
Garlic powder or granules
Mixed Italian herbs
Nutmeg
Rosemary (dried)
Paprika powders (sweet and smoked)
Sea salt,Celtic salt or Himalayan salt
Star anise
Turmeric
Other favourites that I use all the time include onion powder, fennel seeds, garam masala, yellow mustard seeds, dried chipotle peppers.


---
What are your staples in the pantry, fridge and freezer? What do you find you use the most and the least? Don't forget to share this post with anyone who will benefit from this information.