Whether you like chocolate, banana or poppyseed and lemon, these delicious recipes for paleo muffins will please and delight both the kids and the grownups. Perfect lunchboxes, snacks or breaky on the go.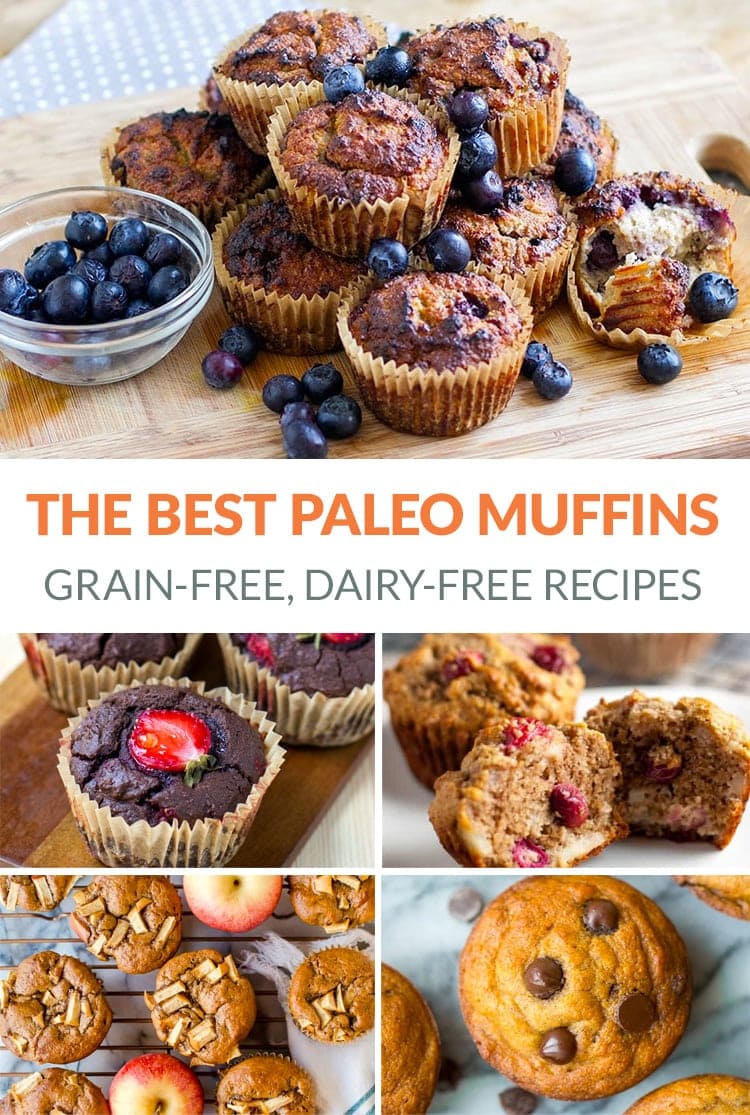 Muffins. Are they paleo dessert or paleo breakfast? With these recipes, they can truly be either. Today, I'm featuring my favourite paleo muffins without grains, refined sugar or any other junk. These are fantastic to try to expand your paleo baking skills and to try something new.
Whether you enjoy a fruity blend, you're looking for something to bake for the kids' school lunches or you just need to curb your sweet tooth with a little chocolate, there's something for you on this list!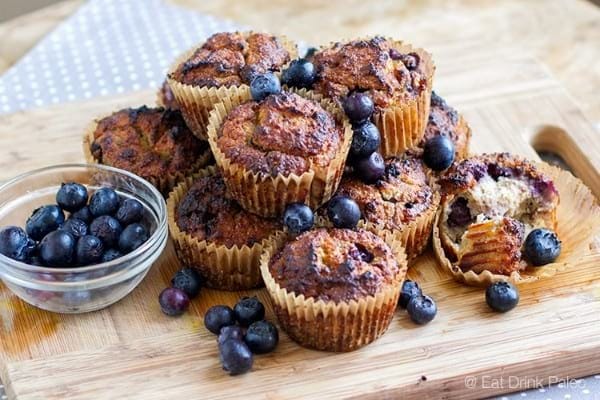 My paleo blueberry banana muffins are a taste of summer any time of the year. Banana is a great ingredient because it pairs well with most fruits while adding natural sweetness and moisture to any grain-free and sugar-free baked good. These are great for packing the kids' lunchboxes!

Apples are in season all year-round in most places, so these muffins aren't just a fall treat. With all the magic of pairing fresh apple slices with almond butter and cinnamon, these comfy, cosy bites pack it all into one irresistible mouthful. Recipe by The Natural Nurturer.
This savoury muffin will change the dinner game. We all know a hearty, meaty chili is best served with buttery cornbread crumbled on top anyways. This recipe is grain-free which also means it's corn-free, but it really hits the spot and the classic flavour you love for unparalleled garnishing power. Recipe by Just Jessie B.
If you love your chocolate, this muffin is perfect. With a cake-like texture and flavour and juicy strawberries in each one, it's a great sweet tooth fix with the authentic feeling of dessert.
Banana bread is the best way to use up overripe bananas. These muffins are moist, delicious and just the right amount of sweet with chocolate chips freckled throughout. Plus, they only take around 20 minutes to make! Recipe by A Saucy Kitchen.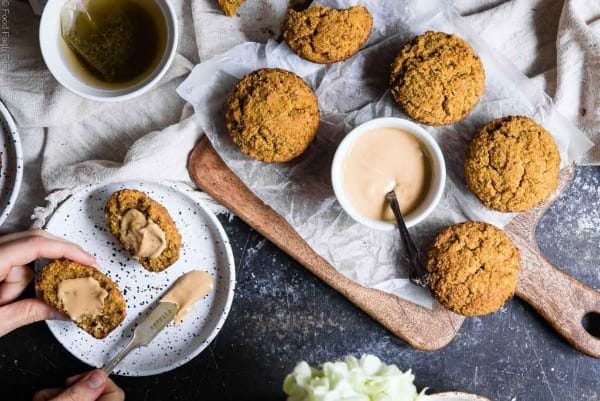 These paleo pumpkin muffins with cinnamon streusel are everything I love about fall baking! Moist, sweetly spiced pumpkin muffins are topped with the perfect streusel plus an optional maple icing! They're a kid favourite and happen to be gluten-free, grain-free, and have a tested dairy-free option. Recipe from Paleo Runnin Momma.
This zesty muffin is perfect for stonefruit season, pairing up juicy ripe peaches with zingy ginger for a healing and delectable combination. A bit of shredded carrot adds colour, nutrition and beautiful carrot cake texture to these too. Healthy enough for breakfast? I think so. Recipe from 40 Aprons.
These muffins are great when the zucchini is in season because we all know it grows fast and in abundance! If you have a garden, you'll want to bookmark this recipe for sure. Flavoured with warming raisins and cinnamon, they transcend the seasons. Recipe from Raising Generation Nourished.
If you're all about a double dose of chocolate, this is the muffin for you. With a chocolate base AND chocolate chips, you won't be missing anything. Instant coffee powder gives these their mocha flair. Oh, and there's a hidden veggie in here. Winning. Recipe from Predominantly Paleo.
These pumpkin muffins stand apart from the crowd because they're packed with protein from gut-healing collagen. The most convincing reason to make these is the two-ingredient chocolate sauce filling though. Dreamy, isn't it? Recipe from I Heart Umami. Check this guide article on best paleo protein powder options.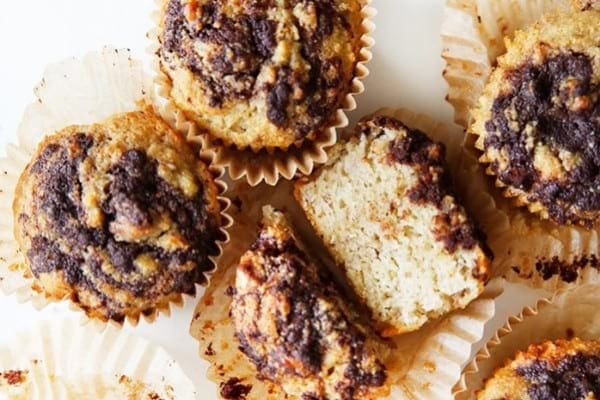 If cinnamon buns are your thing, make these at home. They'll give the Pillsbury tinned version and even Cinnabon and Ikea a run for their money with much cleaner ingredients and just as much of that caramelised, crumbly awesomeness you know and love. Recipe from Lexi's Clean Kitchen.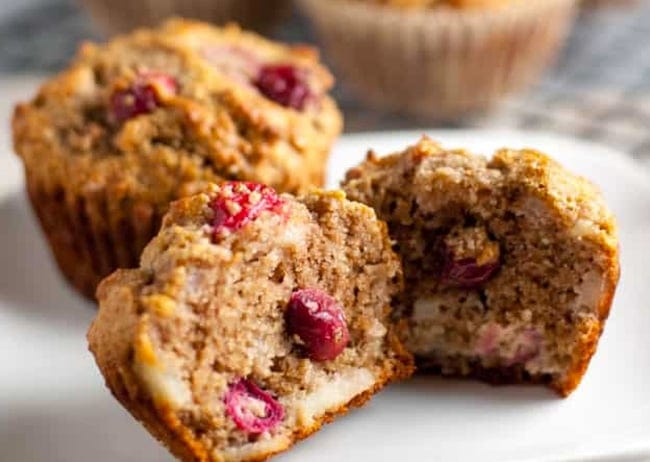 These warming, wintry paleo muffins are festive and juicy, packed with tart red cranberries and juicy ripe pear for a gorgeous snack. During the holiday season, it will be a welcomed break from heavier cookies and cakes! Recipe from Flavour & Savour.
Lemon poppyseed muffins and pound cakes are the highlights of many coffee shop pantry cases. It doesn't exactly make for a very nutritious breakfast, but that fresh flavour is often irresistible. Make these instead for a more nourishing spin on a cafe classic. Recipe from The Healthy Maven.
Well, you know I can't deny a recipe with avocado in it -, especially dessert. If you've never paired it with chocolate, you're missing out. Its neutral flavour and buttery texture happen to work incredibly well with desserts, and I think this brownie-esque muffin recipe proves it! Recipe from Paleo Gluten Free Eats.
This recipe is a mouthful considering its impressive list of ingredients, but it's one that I love! Creamy almond butter meets juicy strawberry meets nutritious and fibrous zucchini? Yes, please! These bites are a midsummer night's dream, truly. PALEO LEMON POPPYSEED MUFFINS
I hope you enjoyed these recipes and found something you're looking forward to making here! Sweet treats can almost always be made the paleo way, and these recipes are truly a testament to that.