Chocolate? Check. Mixed berries? Check. Coconut milk? Check. Heaven in a glass? Hells yeah check!!! This smoothie will make you tingle with happiness. You can have it for breakfast instead of eggs or as a lunch on the go.
I used chocolate protein powder as my base chocolate flavouring. I will always choose real food where possible but Paleo-friendly protein powders are a good option for when you need to make a quick, protein-rich meal in a glass. Many protein powders are full of crazy stuff and artificial sugars so try to stick to 100% egg white or grass-fed whey protein powders with no added sugars. Check with your local store or have a look at the links below.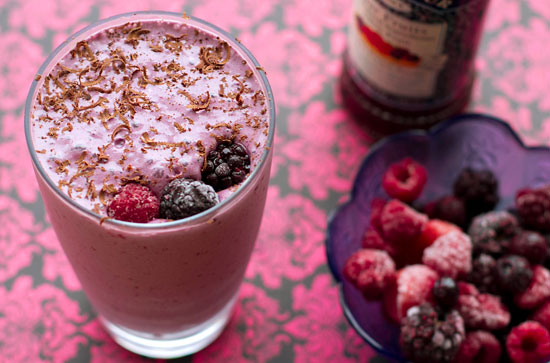 To make this mixed berry and chocolate smoothie you will need 1 cup of frozen mixed berries, which will also act as ice, 200-250ml coconut milk, 2 tablespoons paleo-friendly chocolate protein powder, 1 tsp of St. Dalfour Four Fruits fruit spread (it's a gluten-free jam with no added sugar, good alternative to honey), and a few dark chocolate shavings. Process in a blender until smooth and thick. Add a little water if using chilled coconut milk which tends to thicken in the fridge.
Irey xo