These raising and cinnamon pancakes are inspired by Easter hot cross buns. With subtle hints of ginger, nutmeg, cinnamon and orange, plus the sweetness of banana and raisins, you can make a delicious weekend treat without the need for baking. Get those festive flavours in every mouthful. These pancakes are gluten-free and paleo-friendly.
---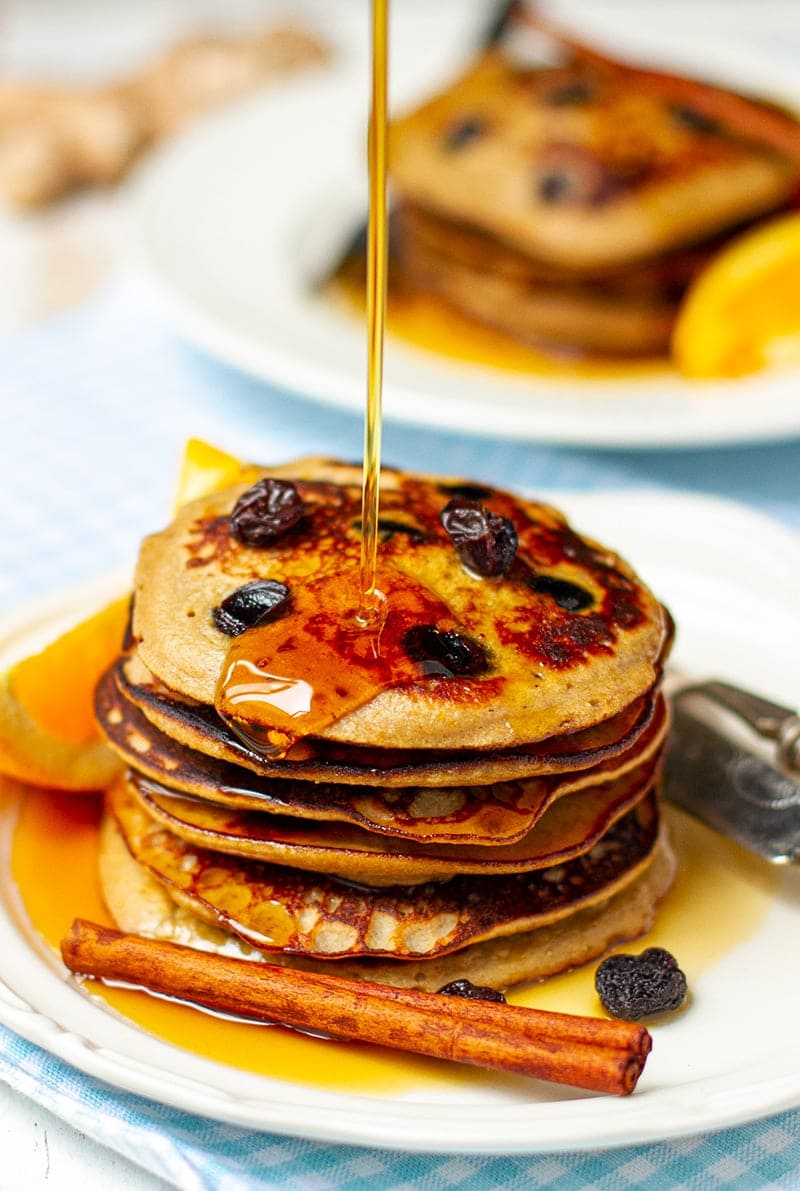 I love long weekend holidays such as Easter because they give us an opportunity to enjoy a few treats and to take the time with cooking for friends and loved ones. In the lead up to this year's Easter, I decided to develop a recipe for a new treat.
These were actually meant to be paleo hot cross buns because a couple of people have asked me to come up with a recipe. I've tried. Twice. And although what came out was still quite tasty and very hot-cross-bun-esk, I've decided against those recipes going public.
I believe that some desserts and baked goods should not be made into their paleo-fied version unless they can turn out just as good or better, or they should be used as inspirations for something different. The flavour is usually not a problem, but it's the texture that you can't always get right paleo-friendly flours. For a gluten-free version, you could use rice, quinoa and buckwheat flours, which contain more protein and help to re-create the texture but almond meal, coconut flour and tapioca are a little harder to work with.
So after those few attempts, I realised that I can still capture the essence and flavours of Easter hot cross buns – beautiful notes of cinnamon, ginger, nutmeg and raisins – in something we all love to eat. Pancakes! As soon as I thought about them in my head, I knew they would work. And they did.
I hope you enjoy these gorgeous cinnamon pancakes as a little treat for Easter or on any other weekend.
CHECK OUT MORE PANCAKE RECIPES HERE
Japanese-inspired Paleo Souffle Pancakes
My Famous Coconut Banana Pancakes
More Healthy Easter Recipes Here
Print
Cinnamon & Raisin Pancakes (Easter, Paleo, GF)
Author:

Prep Time:

10 minutes

Cook Time:

20 minutes

Total Time:

30 minutes

Yield:

about

12

pancakes

1

x

Category:

Brunch

Method:

Pan-Fried

Diet:

Gluten Free
---
4

medium eggs

2

medium bananas, broken into pieces

1/2 teaspoon

grated fresh ginger (or

1 teaspoon

ground ginger powder)

1 teaspoon

cinnamon powder

1/4 teaspoon

ground nutmeg powder
Zest of

1

medium orange

1 teaspoon

coconut oil

1 teaspoon

vanilla essence (optional)

1/4 cup

coconut flour

1/3 cup

of almond meal

2/3 teaspoon

gluten-free baking powder

1/3 cup

raisins
Coconut oil for cooking
Maple syrup to serve
---
Instructions
Add eggs, banana, ginger, cinnamon, nutmeg, orange zest, coconut oil and vanilla to a blender. Process for 15-20 seconds, until smooth and fluffy. If you don't have a blender, you could use a food processor or an electric whisk (if using the whisk, you might need to mash the banana with a fork first).
Then add coconut flour, almond meal and sift through the baking powder. Whiz up a few times until well incorporated and smooth.
Heat a large frying pan (I used a ceramic, non-stick frying pan) over medium-high heat. Melt and spread 1/2 teaspoon of coconut oil, then bring the heat to medium.
For each pancake, use 1/4 cup of mixture. Pour the mixture gently into the frying pan, I managed to fit three pancakes at a time but you might do smaller or larger batches depending on the size of your pan and pancakes, you can always make them into pikelets. Place about 4 raisins on top of each pancake, pressing down slightly to let them sink into the batter. I first added 5-6 raisins but once they were cooked, I thought it should be less.
Cook for 2 minutes on the first side, then flip over and cook for a further 1.5-2 minutes on the other side. As the pancakes are a little more fragile than you regular ones, gently slide the spatula under the pancake, as far in as possible, and then quickly flip over on the other side. The quicker you flip it the less damage you will do to the pancake shape. Add a 1/4 teaspoon of coconut oil to the pan in between batches.
Set aside cooked pancakes while you continue with the rest of the mixture. I like to heat the oven to warm and keep the cooked pancakes in an oven-proof dish so they don't get cold. Serve with maple syrup and some extra butter or coconut yoghurt or ice-cream. I also like a few orange slices on the side.
---
Notes
For a nut-free version, you can experiment with using a mix of flaxseed meal and tapioca flour instead of almond meal. If cooking for a crowd, simply double or triple the ingredients.