---
Description
This macadamia and parsley crusted rack of lamb is a perfect festive dish for the whole family. The recipe is designed for 4 people with some leftovers (if you're lucky) so simply half or double the amount for more people. Please see the 'make ahead' notes below.
---
Scale
Ingredients
For the rack of lamb
2

racks of lamb (French-trimmed,

3

–

4

lamb cutlets per person)

1 cup

macadamia nuts (other nuts can also be used)

1

large clove of garlic, peeled

1/2 cup

chopped parsley

4 tablespoons

olive oil

2/3 teaspoon

sea salt
A little extra salt and black pepper
Some ghee, coconut oil or olive oil for cooking
A large roasting tray
For tomatoes
2

vines of cherry tomatoes

1 tablespoon

olive oil

2 tablespoons

balsamic Vinegar

1/2 teaspoon

sea salt
---
Instructions
To make the roasted tomatoes, preheat the oven to 180 C/355F. Place the cherry tomatoes on a roasting tray and drizzle with olive oil. Roast in the oven, on the middle shelf, for 25 minutes. Take out of the oven, drizzle with balsamic vinegar and place back in the oven for a further 10-15 minutes. Remove the tray and sprinkle tomatoes with sea salt. Set aside.
To make the lamb. This can be done earlier in the day or while you're roasting the tomatoes. Wash and pat dry the racks of lamb, sprinkle with a salt and pepper and set aside to bring to room temperature, maybe 10-15 minutes.
Place macadamia nuts, chopped parsley and garlic clove in a food processor. Add 4 tablespoons of olive oil and a generous pinch of salt. Process into a thick, sticky paste.
Heat a teaspoon of ghee or coconut oil in a frying pan until hot. Place the lamb racks, standing up, and fry for one minute (see picture). Turn the racks flat and fry for an additional minute on each side so all three sides are sealed.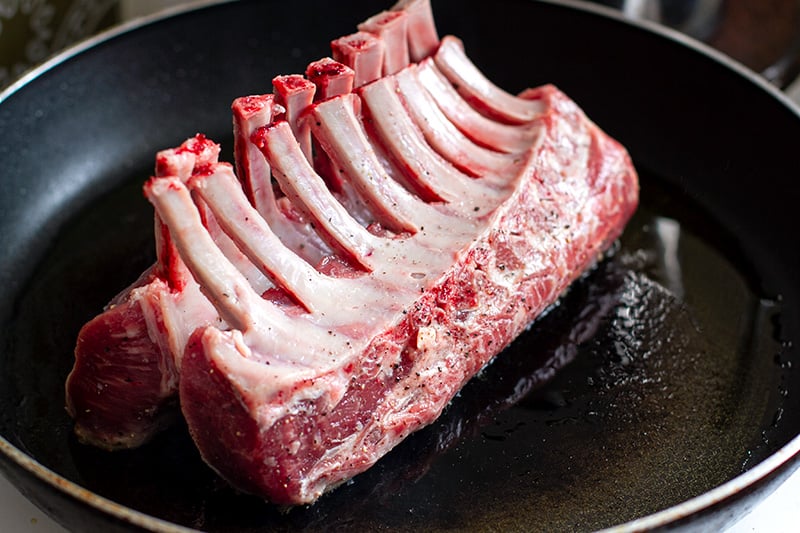 Remove to a plate and once cooled down enough so you can touch it, cover the meatier sides with about 0.5cm thick layer of the macadamia paste, pressing down with your fingers. Place in the fridge to set for 10 minutes.
Preheat the oven to 200 C/390 F. Place the lamb racks in a slightly greased oven tray, crust side up, and bake for 12 minutes at 200 C/390 F. Turn the oven down to 170 C/335 F and roast for a further 8-10 minutes. Rest out of the oven for 5 minutes before serving. The crust is a little fragile so be careful when transferring the lamb to a serving platter. I cut the racks in halves so you can serve them easily on four plates. Arrange the roasted tomatoes around the lamb.
---
Notes
If making this ahead of time, you can keep the pre-crusted lamb racks in the fridge for longer, just wrap them with some cling film or foil. Make sure to bring them back to room temperature before cooking in the oven.