This is a 4th generation recipe, passed on from Pam Johnston from The Family Foodie to Bob's Red Mill, then adapted by a friend of mine, passed on to me, and finally tweaked by me to become a healthier version of this classic treat.
This lemon and coconut slice contains a little sugar, although I reduced it significantly from the original recipe. It also contains some gluten-free flour, so it's not 100% paleo but is perfectly suited to those who want a lovely lemon slice with healthier ingredients.
Lemon and coconut is a superb combination and works well in this delicious slice.
Print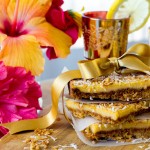 Gluten-free Lemon & Coconut Slice
Author:

Prep Time:

15

Cook Time:

45

Total Time:

1 hour

Yield:

1

0

1

x

Category:

Dessert

Method:

Baking
---
For the crust
2/3 cup gluten-free flour, sifted

Heaped 1/4 cup of almond meal

15 macadamia nuts

¼ teaspoon salt

¾ cup desiccated coconut, unsweetened

6 tbsp cold, unsalted butter, cut into 1x1cm cubes (about 80 grams)

For lemon custard
4 large eggs

1/2 cup low GI sugar such as coconut sugar or a sugar-free alternative

1 tbsp lemon zest (zest of about 1 lemon)

Juice from 1 whole lemon

¼ cup water

¼ cup gluten-free flour

½ tsp gluten-free baking powder

2/3 cups desiccated coconut for the topping
---
Instructions
Preheat the oven to 180°C (350°F). Line an 8 x 8" square pan with foil or parchment paper, leaving enough overhang to use as a handle. Lightly coat with coconut oil. My friend used a 9 x 9" pan and it still worked.
Using a blender or a food processor, grind the macadamia nuts into coarse powder. In a large bowl, combine the flour, almond meal, nuts, salt, and desiccated coconut; stir to combine dry ingredients.
Use a pastry cutter to cut in the cold butter, working the mixture until the butter has been reduced to pea-size crumbs. Use your hand to knead the butter into the dry mixture. I used a food processor on a slow setting for this whole process.
When all dry ingredients have been incorporated, press the mixture evenly into the bottom of the prepared pan. Bake for 20 minutes, rotating halfway until the crust is just beginning to brown slightly. Mine baked a bit too quickly so I had to reduce the heat of the oven to 150C.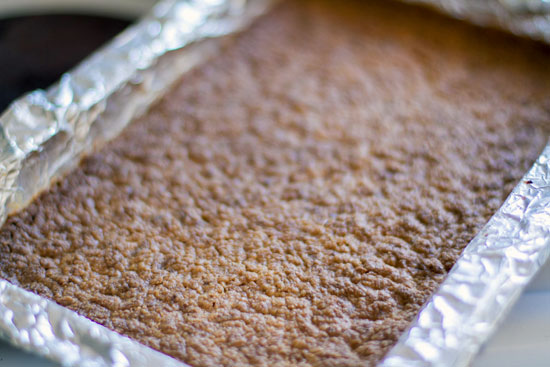 While the crust bakes, whisk together the eggs, sugar, lemon juice, lemon zest, flour, and baking powder.
Remove the hot crust from the oven and pour the custard over the top immediately; return the pan to the oven and bake for 10 minutes.
Sprinkle the remaining 2/3 cup coconut over the custard. Bake for another 10 minutes, just until the lemon topping is all set and coconut flakes are golden brown (If you aren't using the coconut topping, just bake for 20-22 minutes, until the lemon custard is set at the centre.)
Transfer the pan to a rack and let the slices block cool down. Use the foil to transfer the pastry to a work surface to cut into square slices or bars.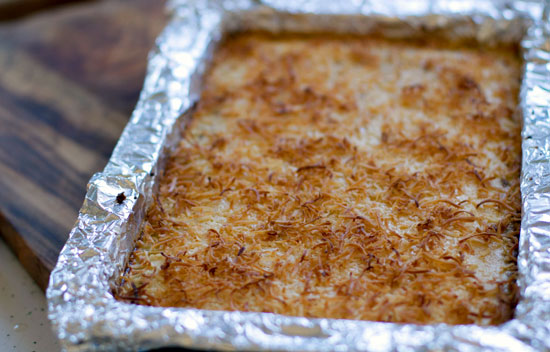 Assuming you have any left over, these slices can be stored, covered in the refrigerator for 2–3 days.
---
My final product! They definitely look different from my friend's or Pam's bars and the bottom turned out a little crumbly but I have to say that they tasted scrumptious. I kind of like they're not perfect, makes them look rustic.