Artichokes, also known as the globe artichokes, are often associated with Mediterranean cuisine but the vegetable is widely grown and consumed in the Middle East and parts of South America as well as in Australia and the US. It's most commonly found as canned, marinated artichoke hearts used in salads and on top of pizzas. Fresh artichoke is also widely available but many people are intimidated by its peculiar shape and because it looks too pretty to eat. Once you know how to prepare an artichoke, there are many cool recipes to try whenever it comes in season and the price drops dramatically.
How to handle an artichoke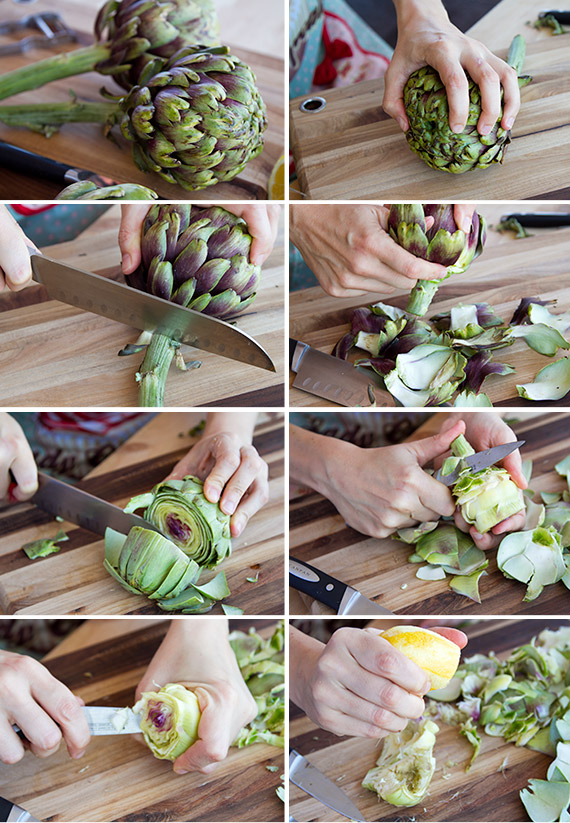 To prepare the artichokes, trip part of the artichoke stem and peel half of the outer leaves away. Leaves closer to the core have a pale, fleshy part on the bottom. This part of the leaves can be eaten and is often dipped in sauces like hollandaise, vinegar, butter, mayonnaise and aioli. The leaves can also be steamed to make them softer. But you can easily discard them and just use the hearts.
Once the outer leaves are peeled, cut the top half of the artichoke's head off and discard. Discard the rest of the leaves and use a peeler to peel the stem, you want to expose the pale part of the artichoke head. Now remove the fully, coloured choke in the centre of the artichoke using a knife or a spoon.You can also cut the artichoke in half or quarters and the cut the fluffy, hairy parts of the choke out.
Finally, drizzle or rub the artichoke with lemon juice to stop it discolouring.
Cooking with fresh artichoke
You can use whole artichokes and bake or deep fry them stuffed with a variety of fillings such as nuts, herbs and garlic or minced lamb and beef. Artichokes can be steamed, boiled or grilled and added to salads, bakes or used to make an artichoke pesto. Try some of these paleo friendly artichoke recipes at home:
Artichoke pesto
Pan-fried artichokes with garlic, lemon and anchovies
Roman-style artichokes (replace breadcrumbs with nuts)
Artichoke Spanakopitta with Za'atar
Artichoke & potato soup
Grilled artichoke pesto zucchini wraps
Braised baby artichokes with chestnut honey and thyme
Pickled artichoke salad
Do you ever cook with fresh artichokes? What's your favourite recipe?