---
Description
This leek and mushroom tart is gluten-free and grain-free and can be served for brunch, lunch, dinner with a salad or veggies or prepared as an appetizer or picnic food.
---
For the tart crust
1 cup almond meal (about 100 grams)
1 cup tapioca flour (about 100 grams)
1/2 cup butter (90 grams, salted butter)
1/2 teaspoon salt
1/4 teaspoon pepper
1 garlic clove, finely diced
1 teaspoon thyme leaves (fresh or dried)
1 egg
For the filling
Olive oil for cooking
1 leek, sliced into thick circles (white and pale green parts)
250 g /0.5 lb button mushrooms, sliced
1/4 teaspoon salt
A pinch of pepper

1/2 teaspoon lemon zest
1 garlic clove, crushed or diced
1 tablespoon lemon juice
5 large eggs, whisked
Optional: 50 g / 2 oz Cheddar cheese, grated
---
Instructions
Preheat the oven to 190 C / 375 F.
Add all tart crust ingredients except for the egg to a food processor. Whiz until combined and the mixture starts to come together. At this stage, add the egg and process again briefly to incorporate. Scrape the sides halfway. The mixture should be easy to mould with your fingers.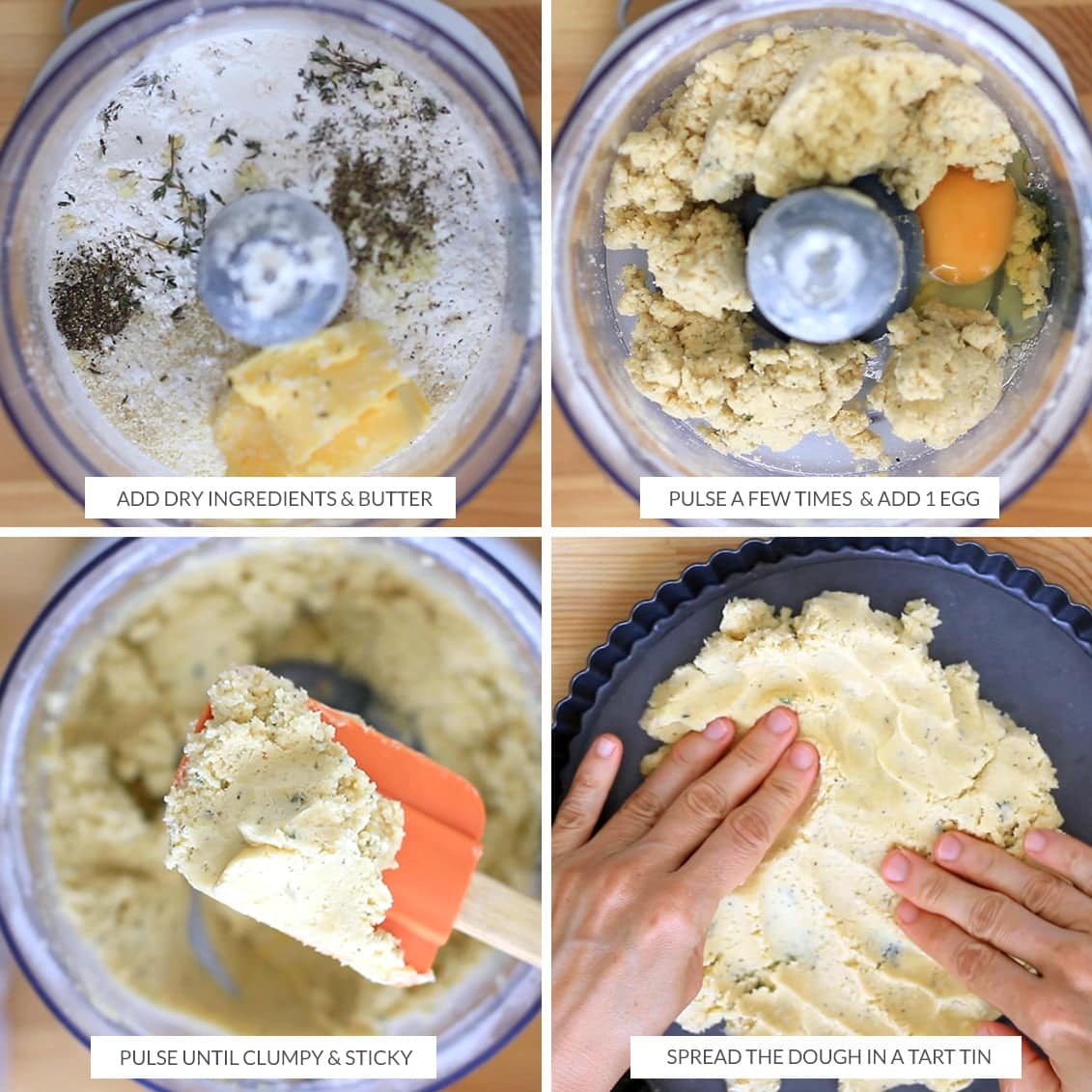 Transfer the crust mixture to a tart tin. I use a medium round tin with a removable bottom but you can use a square one or mini ones. Place the dough mixture in the middle and mould it into a pancake. Then use your fingers to press it down and spread into the sides as evenly as possible. The dough is easily breakable but is sticky so you can mend any cracks. Once evenly spread, press your fingers into the edges making sure the dough covers the sides of the tin. They don't need to be cover the whole height of the sides, halfway is okay. Poke the base with a fork a few times.
Partially bake in the 190 C / 375 F oven for 12-15 minutes, until set and firm but isn't golden brown. Remove and set aside.
Whisk the eggs in a bowl and season with a little salt and pepper and set aside.
Slice the leeks into thick circles, about 1/2-cm each and move them to a plate, keep them intact. Slice the mushrooms and set aside.
Heat a frying pan over medium-high heat and add a little olive oil. Add the whole leek circles and cook for 2 minutes each side, until golden brown and slightly charred. Remove carefully to a plate, keeping the circles intact still.
Add a little more oil to the pan and follow with the mushrooms. Season with a couple of pinches of salt and a little pepper. I like to grate a little lemon zest but it's optional. Cook for 3-4 minutes, stirring a couple of times. Add once diced garlic clove and a splash of lemon juice, and cook for 2 more minutes or so. The idea is to let the mushrooms release their juices and then cook them long enough for those juice to evaporate, so we remove as much liquid as possible. You will be left with golden brown mushrooms.
Okay, it's time to build our tart. Sprinkle the bottom of the crust with 1/2 cup of grated cheese if using. Pour in the egg mixture evenly and top with the mushrooms. Spread those evenly and then place the pre-cooked leek circles on top, gently pressing them into the mixture. Add a few more sprigs of thyme and pop in the 190 C / 375 F oven for 20 minutes.
Once ready, remove and allow to sit for a few minutes before removing the tart from the tin. Slice and serve with a salad or/and a side of tomato salsa, relish, aioli or as is.
---
Notes
Leeks can be subbed with sauteed onions. If avoiding onions, use grilled zucchini or some sliced artichokes or sun-dried tomatoes from a jar, or simply go with all mushrooms.
I kept this vegetarian-friendly but you can add diced ham or sausage to the tart for extra protein.
If not using cheese, add an extra egg. You can use some dairy-free cheese alternatives or sprinkle some nutritional yeast for a little cheesy flavour. You can also use ghee instead of butter to avoid lactose.