When I think of comfort food, I often imagine a hearty spaghetti carbonara. If you've never had it, carbonara is an Italian pasta dish from Rome made with egg, hard cheese, such as Parmesan or Pecorino, bacon, and pepper. Some versions might also contain cream but it's actually the barely cooked egg and the cheese mixed together with some pasta liquid, that give this dish all the creaminess that it needs.
I sometimes make a paleo version of carbonara using zucchini noodles, in which case I hardly cook the zucchini or it goes watery and soggy (I like my paleo pasta alternatives al dente, just as I like the real spaghetti). For this recipe, I wanted to use a firmer root vegetable, that would retain some of its crunch after cooking, and celeriac seemed like the best choice.
I remember seeing a recipe for spaghetti carbonara cake on Jamie Oliver's website and it gave me an idea of making a paleo carbonara casserole. It sounded like a fabulous idea in my head and luckily it turned out great when I made it. I also found that baking this dish resulted in less mess and less effort, and looked great when presented.
Cook's notes
Ideally, you will need a vegetable spiralizer (I use Paderno spirazlier) or some kind of gadget that makes ribbons or noodles out of vegetables. If you don't own one, I highly recommend it as you can make all sorts of creative paleo dishes such as this zucchini arrabbiata with prawns or this spirazlied beetroot and carrot salad with goat's cheese. You can also make these 20 recipes using a spiralizer.
I am using celeriac to make the noodles. Celeriac is a fantastic root vegetable with firm, slightly creamy flesh that tastes a bit like celery or fennel, but is very neutral, making it great for sauces and dressings.
In order to spiralize the celeriac successfully, you have two options:
1) get a smaller, more elongated celeriac root so it easily fits between the blade and the handle of your spirazlier
2) get a really large root that you can cut into two elongated shapes.
I used a larger root, which I peeled and cut in halves. Make sure to peel off the hard skin as it's inedible anyway (you could add it to a stock). Trim off the ends so they are flat, which will help to secure the vegetable firmly between the blade and the handle. As the flesh is firmer than say zucchini, you will need to apply more pressure on the handle as you spin it.
If you don't have celeriac, spiralized sweet potato, parsnip, or pumpkin would also work well. You could use zucchini noodles as well, but they will turn out much softer and soggier once baked.
Please note, celeriac can be eaten raw so once baked for 12 minutes it will soften slightly but should still retain some of its crunch. Don't panic! It doesn't mean it's undercooked. That's the way we want it, with some fibre 😉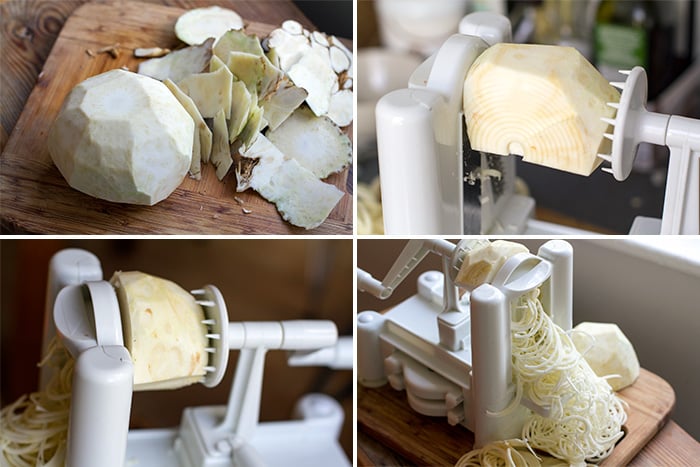 The rest of the recipe is pretty straightforward. As we're not using cheese, I recreated the flavour by blending together the eggs with some almond milk, soaked cashews (for extra creaminess) and nutritional yeast flakes (for that umami cheese flavour). You can get nutritional yeast flakes in most health food stores and online. You can also omit those and the recipe will still work fine.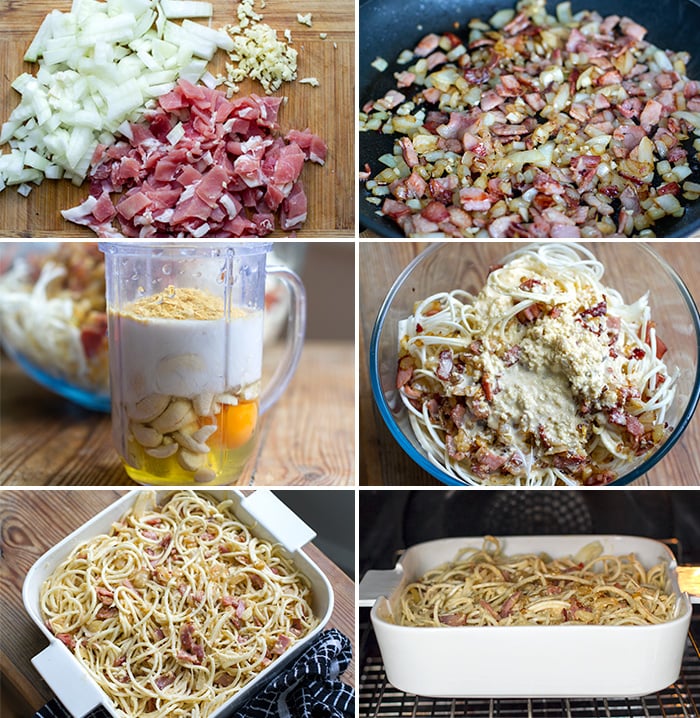 Print
Paleo Celeriac Carbonara Casserole
Author:

Prep Time:

12 mins

Cook Time:

25 mins

Total Time:

37 mins

Yield:

4

1

x
---
Scale
Ingredients
1/2 cup

raw cashew nuts

1 tablespoon

coconut oil or olive oil

1

medium brown onion, finely diced

6

rashers/streaks of bacon (middle bacon/Canadian bacon, pancetta is also great), diced into small cubes

2

medium cloves of garlic, finely diced

1 teaspoon

sea salt

1/2 teaspoon

white or black pepper

1 tablespoon

butter or ghee (or extra olive oil)

1

large celeriac, peeled and spiralized into ribbons (see notes)

3

eggs

1/2 cup

almond milk

2 tablespoon

s nutritional yeast flakes
Chopped parsley to serve
---
Instructions
Add the cashew nuts to a bowl and cover with warm water. Allow to soak for 15-20 minutes.
Preheat the oven to 200 C / 395 F.
In a large frying pan, heat a tablespoon of olive oil or coconut oil over medium-high heat. Add the bacon and pan-fry for 3 minutes, stirring a few times.
Add the onion to the bacon and pan-fry together, stirring a few times, for 5 minutes. Once softened, add the garlic, salt, pepper and butter (or ghee) and stir through for 20 more seconds.
While the bacon and onions are cooking, prepare the celeriac. Cut off the hard ends from the celeriac root and peel the sides. Depending on the type of vegetable spiralizer you use (I use Paderno spiralizer), you might need to cut the celeriac in two halves as it can be a little difficult to spiralize the whole root at once. I cut mine in two halves and trimmed the ends so their are flat. Spiralize each half into noodle ribbons and set aside. See cook's notes for more on how to spiralize it.
Transfer the celeriac noodles and the cooked bacon and onions mixture to a large mixing bowl.
Strain the cashews and add to a blender or a food processor together with the eggs (whites and yolks), almond milk and nutritional yeast flakes. Add another pinch of salt and process for 30 seconds until smooth (it's okay if some of the cashews are not completely pulverised, adds a bit of texture).
Pour the egg mixture over the celeriac noodles. Using your hands, mix everything together working the sauce through the noodles. Transfer to a round or square casserole dish and place in the oven, middle shelf for 12 minutes.
Once you remove the casserole dish, the celeriac should be crisped up and golden brown on the top. The egg mixture would have cooked firmer around the edges of the dish and on the bottom, yet will still be a little creamy in the middle. Serve with chopped up parsley on the side.
---
Serve with chopped parsley on top! Enjoy 🙂 Let me know in the comments if you have any questions or if you've made it. For extra protein, feel free to grill some chicken on the side.

---