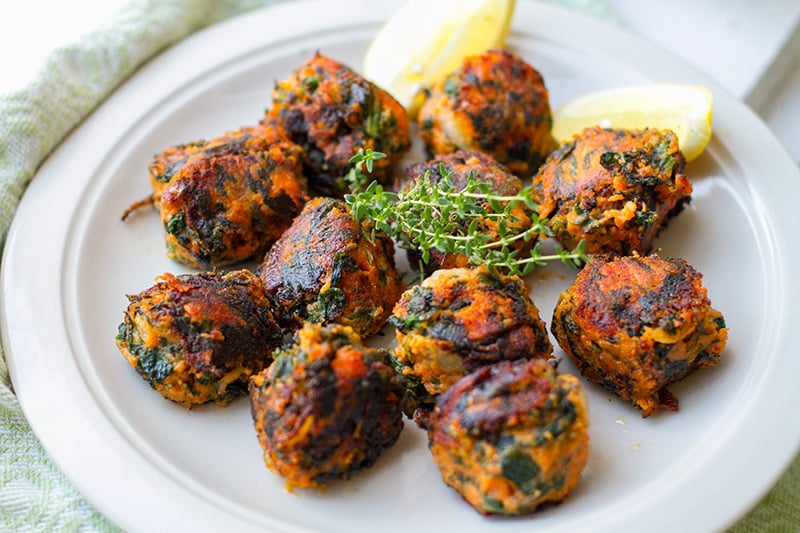 These yummy sweet potato balls of goodness are inspired by the Austrian/central European dish known as knödel, which is essentially rounded potato or flour dough balls poached in water or stock, and sometimes pan-fried. They are usually served as a side dish with meats and stews.
I saw some spinach knödel balls in a deli window in Vienna (similar to above picture), which gave me an idea for this recipe. Unlike knödel dumplings, my balls are less stodgy and softer in texture, and I decided to pan-fry them to get that lovely, crispy crust.
I used sweet potato and spinach as a base and a little bit of tapioca flour to help the mix bind together. There is no egg in this recipe. The mixture is thick, and although a little sticky, it rolls into balls quite easily. I call these balls 'bombs' because when you bite through a slightly crispy outer layer, they explode in your mouth and the warm sweet potato gooeyness spreads in your mouth.
These are great for kids' lunchboxes or as a quick snack, as a side dish with meat, fish or salad, or as something you can serve with eggs in the morning. You can make a larger batch of these sweet potato balls to store in the fridge for 3-4 days.
Print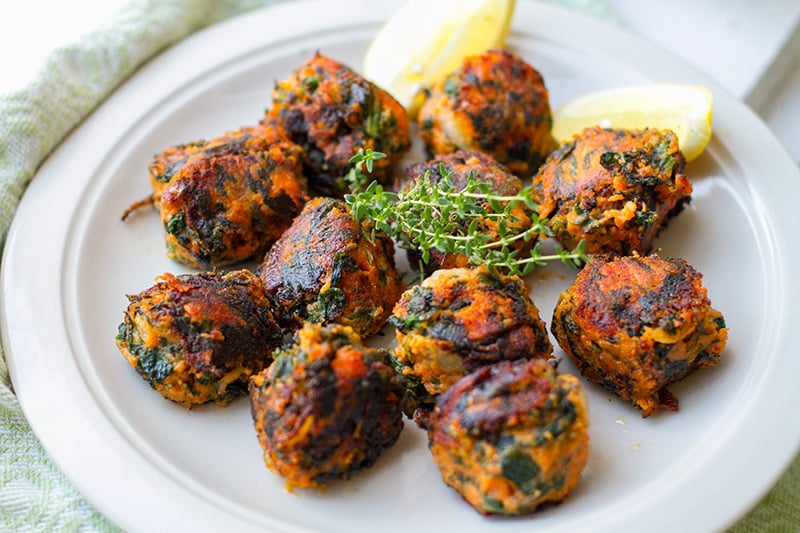 Spinach & Sweet Potato Bombs
Author:

Prep Time:

15 mins

Cook Time:

20 mins

Total Time:

35 mins

Yield:

4

1

x
Category:

Side
---
Scale
Ingredients
2

medium sweet potatoes, peeled and cut into cubes

1

+ 1/2 cup wilted spinach, chopped (see instructions below)

1

large white onion, finely diced

2 tablespoon

s olive oil

2

garlic cloves, finely diced

4

sprigs of thyme, leaves only
Zest of

1

lemon

1 tablespoon

lemon juice

1

+

1/2 teaspoon

sea salt

2/3 teaspoon

ground black pepper

1/4 cup

tapioca (cassava) or arrowroot flour (see notes)
Oil for frying (you can use coconut oil, macadamia oil, ghee or even duck fat)
---
Instructions
Place cubed sweet potatoes in a medium saucepan of cold water and bring to a boil. Cook for 10 minutes, until soft when poked through with a knife. Strain the sweet potato completely and return to a bowl.
To get 1 + 1/2 cups of wilted spinach you can use frozen spinach and place it in really hot water to thaw out; then squeeze as much water out with your hands as possible so you're left with soft, wet but not dripping spinach mass that you can chop. Alternatively, you can get 2 bunches of spinach and sauté them in a little water for about one minute, until wilted (a.k.a wet and shrunk in size). Then cool it down and squeeze the excess liquid before chopping.
Heat 2 tablespoons of olive oil and sauté the onion for 10 minutes over medium-low heat, until translucent and golden brown.
Add the chopped spinach, garlic, lemon zest and thyme leaves and cook for 3-4 minutes. Drizzle with lemon juice.
Mash the cooked sweet potato with a fork or a potato masher. It's fine if it's not completely smooth. Add the spinach and onion mix, salt, pepper and tapioca flour and mix well together.
Heat a thin layer of fat or oil in a frying pan until sizzling hot and then turn down to medium. Wet your hands and roll equal amounts of potato and spinach mixture into small balls, a bit smaller than a ping-pong ball. Gently place in a hot frying pan, leaving a little space in between balls. Fry for 2 minutes on each side, until golden brown crust forms, making sure to turn over gently using a fork and a spatula. I do 3-4 sides (top, bottom, left and right), so they're evenly crispy. Add more fat or oil as needed.
Serve with a little thyme and lemon wedges and your choice of meat or fish, if you're having these as a side dish.
---