These super moist and rich sweet potato brownies taste delicious and make for a perfect healthy treat. They are paleo-friendly, gluten-free, grain-free and dairy-free. They are perfect as a healthy Christmas or Thanksgiving treat or to bring to a birthday party or any other gathering.
---
This amazing sweet potato brownies recipe is hands down the most popular post on my website. They have been cooked by many people, shared around, commented on and received both amazing feedback and some questions.
I made a few batches of these chocolate brownies and have amended a couple of little things based on everyone's feedback and comments. I also took some new pics including step-by-step instructions, to make it easier for you guys to follow. I believe all recipes are meant to evolve, so I hope you can adapt them to suit your own taste.
I originally got this recipe from a lady called Karen from Canada. Karen made me her paleo chocolate brownies while I was visiting and they were so moist and delicious that I had to steal the recipe to share with everyone. Thank you, Karen!
What makes these brownies healthy
These chocolate brownies are paleo, gluten-free, grain-free, dairy-free and nut-free (if you don't count coconuts as nuts).
As the main ingredient, sweet potato adds a lot of vitamins and fibre to these brownies. It's shredded and added to the batter raw but then cooks and softens in the oven, providing a lot of moisture, lovely texture and naturally sweet flavour. This means, that you don't need as much sweetener. Instead of refined sugar, I am using a little honey.
There is no regular flour or almond meal in this recipe and the batter is bulked up by the cocoa powder and coconut flour, which is tree nut-free. Coconut oil is our primary fat.
For an egg-free or vegan version, try this recipe from Salted Plains or try using an egg replacement like soaked chia seeds or flaxseeds and maple syrup instead of honey.
The recipe makes about 12 brownie pieces and each serving (1 brownie) has 150 calories, about 13 grams of carbohydrates (2.3 g fibre), 10 grams fat, and 2.3 grams protein. Find the full macros and micronutrients below the recipe.
HOW TO MAKE PALEO SWEET POTATO BROWNIES
The full recipe for the brownies is below but here is a quick video and a few points I want to mention.
You can use orange or white sweet potato for this brownie recipe. You will need to grate it using a hand-held grater with the larger holes or you can use a food processor as well. The potato is raw when starting out but it will cook and soften while baking and will give the body and moisture to the brownies.
I love using raw cacao powder (more on different types of cacao stuff here) because it's more superior from a nutritional point of view but you are welcome to use regular Dutch chocolate powder, and a dark or light colour powder will both work but might affect the final colour of the brownies.
Please note that the cacao powder also acts as the flour in this recipe. Because the sweet potato and the cacao powder add a lot of body/bulk to the batter, we don't need to use many additional flours but we do use some coconut flour. You can replace coconut flour with twice as much of cassava flour or almond meal if you need to.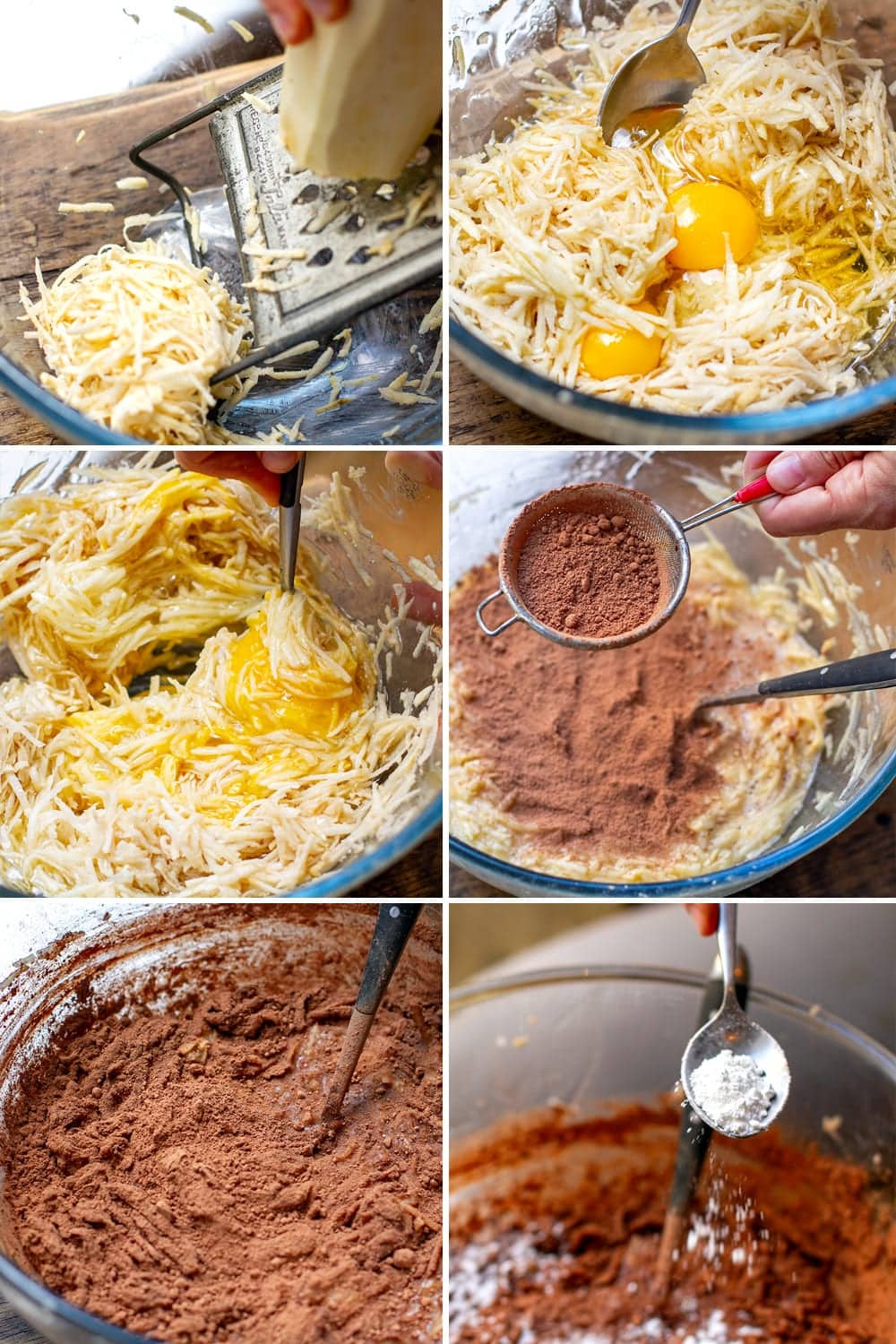 FREEZING THE SWEET POTATO BROWNIES
If you don't get through the whole batch at once (or you would rather not), you can slice the brownies and freeze them as individual portions for up to 3 months (without the chocolate glaze). Defrost overnight in the fridge or on the counter and feel free to pop them in a hot oven for 5 minutes.
I hope you enjoy these amazing chocolate brownies and if you're a fan of all things cocoa, make sure to subscribe to my newsletter as you get your hands on my Mini Chocolate Lovers Cookbook.
More Recipes To Try
Print
Sweet Potato Brownies (Paleo, Gluten-Free)
Author:

Prep Time:

15 mins

Cook Time:

30 mins

Total Time:

40 mins

Yield:

12

1

x

Category:

Desserts

Method:

Baking

Cuisine:

American
---
Description
These chocolate sweet potato brownies contain coconut flour but not nuts so they could be great for kids school lunchboxes and parties unless you're not allowed to bring coconut-based treats. Perfect as a treat for birthdays, Christmas, Thanksgiving or Easter, these brownies are paleo, gluten-free and dairy-free.
---
---
Instructions
Preheat the oven to 185 °C (365 °F), making sure the oven is hot before you put the brownies in. Line a baking tray with lightly greased baking paper. I used a 9″/23cm square tin.
Combine the grated sweet potato, eggs, vanilla, honey and coconut oil in a large mixing bowl and stir together until well incorporated. Then, add the cacao powder, baking powder and baking soda and combine. Stir in the coconut flour last.
Once combined, pour the mixture into a baking tray and pop in the oven. Cook for 25-30 minutes.
Remove the tin and cool for 5-10 minutes before carefully removing the brownie cake from the tin. Cut into squares and dust with a little extra cacao powder or melt some dark chocolate in a bowl over boiling water or in a microwave and drizzle it over the top.
Serve with raspberries or strawberries and maybe some fresh cream or coconut yoghurt.
---