These paleo Thanksgiving and Christmas recipes and menu ideas will help you put together a spectacularly delicious feast for your friends and family.
---
With Thanksgiving and Christmas fast approaching, many of us are starting to plan out the festive menus for family gatherings and parties. Whether you're hosting and catering for the whole event, or you've been put in charge of a particular dish, these ideas will help you get the best food in front of your guest.
APPETISERS & STARTERS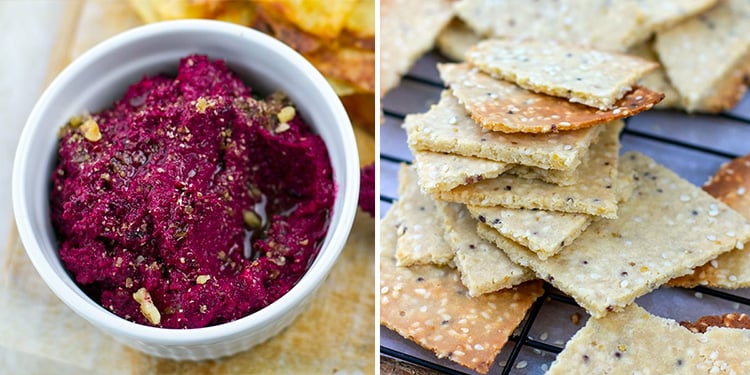 For something seasonal, tasty and simple, you can't go wrong with a vegetable dip and crackers. My beetroot, walnut and prune dip always gets the thumbs up and you can serve it with my mustard tahini paleo crackers.
Another idea is to make a platter of my crispy cauliflower with spicy salsa sauce or colourful deviled eggs with creative fillings inside.
Bacon wrapped stuffed dates are a classic and paleo friendly, or for something a little more filling and elaborate, you could make mini sweet potato and beef burger sliders.
You can find more ideas for paleo finger food and appetizers here.
MAIN PROTEIN DISH
While roast turkey is the go-to classic main for holiday dinners, there are lots of other festive protein options. I have a whole post about worthy turkey alternatives here, but some ideas include
Macadamia and parsley crusted rack of lamb
Roasted pork tenderloin with mushrooms and balsamic onions
Turkey rissoles with cranberry pesto
My roasted chicken with bacon and sage stuffing
Greek-style roast chicken with lemon, garlic and herb marinade
For a fish option, try my whole roasted trout with herb salsa; and, for a vegetarian and paleo-friendly nut roast, check out this recipe from Greens Of The Stone Age.
PERFECT HOT & COLD VEGETABLE SIDES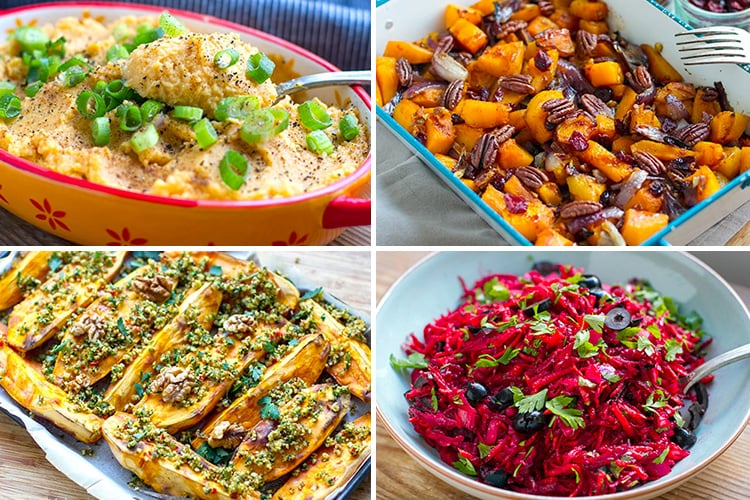 Being a huge fan of vegetables, I have a lot of side dishes to choose from. As a rule, you should have a few hot vegetable sides like a creamy mash, roasted potatoes, some braised greens and a more refreshing, cold salad like a tasty slaw with seasonal vegetables. Here are some delicious paleo side dishes to choose from.
Nutmeg & Cinnamon Cauliflower Sweet Potato Mash
Thyme & Garlic Roasted Kabocha Squash
Broccoli Slaw With Celery & Cranberries
Roasted Pumpkin With Cranberries & Pecans
Baked Sweet Potatoes With Walnut & Parsley Crumbs
Beetroot & Olive Slaw Salad
Brussels Sprouts With Cranberries & Garlic
Simple Garlic Roasted Sweet Potatoes
Dairy-Free Creamed Spinach
Paleo Parsnip & Cauliflower Mash With Garlic Butter
Roasted Cauliflower With White Sauce & Almonds
Green Beans With Burnt Sage & Almond Butter
Beetroot & Potato Vinegret Winter Salad
Pimped Up Celeriac Slaw With Pancetta & Pine Nuts
Jalapeno Coconut Bread (Alternative To Corn Bread)
Paleo Thanksgiving Stuffing from Zen Belly
SAUCES & CONDIMENTS
I have a post featuring all different paleo sauces and condiments here, but for Thanksgiving and Christmas, I have a few favourites. My 'Cheesy' sauce is good with chicken or turkey, or poured over roasted cauliflower or green beans; you can also use it to make scalloped sweet or white potatoes. This simple homemade cranberry sauce from Fed & Fit is a must, and I love this easy umami gravy from Nom Nom Paleo.
THANKSGIVING & CHRISTMAS DESSERTS
Whether you want to go for a pumpkin classic or you'd like to indulge in some chocolaty goodness, these recipes will get the sweet side of the menu covered. A couple of nut-free options are included!
Sweet Potato Brownies
Paleo Apple Cake
Classic Paleo Pumpkin Pie from Paleo Running Momma
Soft & Chewy Gingerbread Cookies
No Bake Chocolate Caramel Slice
Gingerbread Cupcakes (Nut-Free)
5-Ingredient Chocolate Cake (Nut-Free)
SPECIAL HOLIDAY DRINKS
You could easily get away with a bottle of good red wine or sparkles, but if you want to make something a little more festive, these recipes are worth checking out.
Slow Cooker Low-Carb Mulled Wine from the Real Food Dieticians
Hot Mulled Apple Cider from Against All Grain
Alcohol-free Faux Gin & Tonic
Paleo Winter Champagne Cocktail from By Lynny
Paleo Egg Nog from My Heart Beets
So there you go, my friends! Now you are equipped to create the most epic paleo Thanksgiving or Christmas ever. What will you choose? Comment below with your favourite dishes and drinks.
---