With over 600 healthy recipes on my blog, it can be hard to choose which ones to cook. That's why at the end of every year, I do a wrap-up post featuring 12 most popular healthy recipes of the year. These are recipes my readers cooked, loved, commented on and shared the most and feature gluten-free, paleo, Whole30 and low-carb dishes. I'd love to know which of these you've tried and if you have your own favourite Irena Macri recipes? Let me know in the comments.
---
Every December, I like to do a little analysis of the most popular recipes on my blog for the year passed. I look at which recipes my readers and followers have visited the most, and which have gotten the most social shares and positive feedback. It's always fun to share these recipes with you, as I know that not everyone gets to try everything I publish. I like to think of this as my annual highlight reel.
Every year I often see a lot of my old dishes in this list and although I did include some of them, I wanted to focus on the most popular recipes that came out more recently. I hope you enjoy this year's top 12 healthy recipes selection!
You might want to check out my Top 25 Recipes Of The Decade (2010-2019), which I compiled last year.
In no particular order, here are my most popular recipes of 2020.
---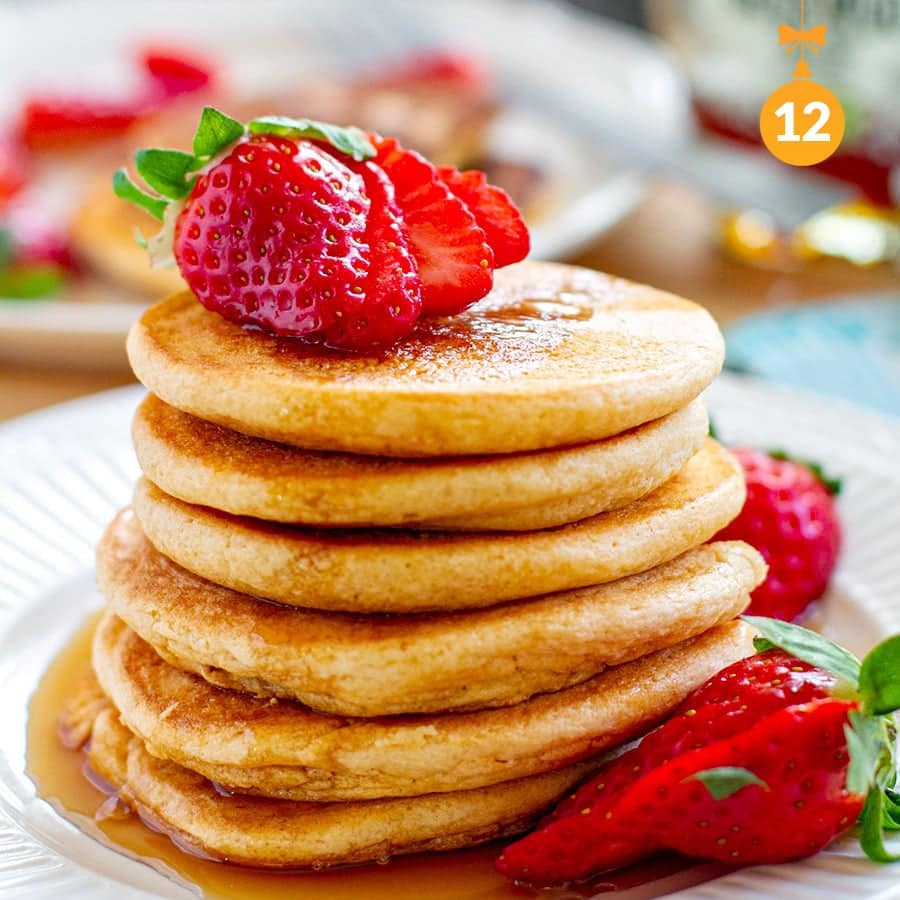 These gluten-free, paleo soufflé pancakes are a super fluffed up version of the classic brunch comfort food. Inspired by the cloud-like, fluffy Japanese-style pancakes, which are becoming the next big food trend, this recipe is a must-try for all pancake lovers.
"Pancakes are one of my favourites for breakfast. This recipe is excellent!" – ★★★★★ – Rick V.
"I gave these a try this morning. I was excited to try a 'light and fluffy' version of a paleo pancake, as most are dense (not always a problem, just not like the original). Well, I can say I was not disappointed! I followed the recipe as suggested (with the omission of maple syrup and stevia). I served with coconut yoghurt and fresh berries and they were delicious!" – ★★★★★ – Sarah.
This rainbow chicken dinner is nutrient-dense and delicious bursting with colours and flavours. In this recipe, I shared how to make every part of this incredible, healthy meal. It's gluten-free, paleo, Whole30-friendly and I provide a few ideas for swaps and substitutions. Quite a few of my readers have tagged me on socials about making this dinner, so I know it's become a bit of a crowd-pleaser.
"I made this, and everyone loved it! I did make two substitutions though. I didn't like the idea of the olives in the slaw, and I don't really follow paleo. So I grated an apple and added that to the slaw. The slight sweet crispness was much needed to balance out my other substitute. I added cayenne pepper to the chicken marinade and it gave a nice amount of heat combined with the maple syrup." – Alexis – ★★★★★
Have you ever had sesame snaps? They were one of my favourite childhood snacks! In this popular recipe, I share how to make homemade sesame snaps that are just as good as the ones you get from the store but are healthier and aren't wrapped in individual plastic wrappers. It's a delicious snack or a mini treat that is gluten-free, nut-free, paleo and vegan-friendly. This recipe was originally created for my free 8-week program and has since become super popular with my readers. I hope you like it!