ladies, LISTEN UP!
If you're on my email list, you might have received a newsletter about a fabulous bundle of resources on ALL things women's health and wellness. It's a collection of products that was launched earlier this year and something I personally purchased as I was researching a few topics for my own health and self-care.
I never shared this bundle with my readers at the time as I didn't think it was relevant. It wasn't as much about recipes and cooking as previous bundles. But when I started going through the resources, I realised that so many of my readers are probably struggling with some of the issues covered.
Many of you have recently expressed interests in learning more about topics like inflammation and chronic illness, menopause, fertility and balancing hormones to mention a few. So it was quite fitting that a couple of weeks ago (not making this up!), I got an email from the Ultimate Bundles team with whom I've collaborated for many years now, telling me that the Women's Wellness Bundle is going to be back for a quick flash sale.
To be precise, it will be available for one last time this Wednesday, September 2nd @ 12 am ET until Thursday, September 3rd @ 11:59 pm ET.
---
WHAT IS WOMEN'S WELLNESS BUNDLE?
It's a collection of 80 resources (eBooks, eCourses, printables, workbooks, expert summits and a documentary) covering a range of topics related to women's life stages and wellness. Altogether, these resources are valued at $4652.70 USD (AUD $6,327.53), meaning that if you bought each of these products separately, that's how much you would pay in total.
However, for a limited time, all the authors get together and put their products into one single bundle that gets heavily discounted. The idea is that collectively they can reach A LOT of new customers so even though it's super-duper cheap, it is still worth for the content creators.
Many people take advantage of these bundle sales, even if they're only interested in a handful of featured resources (which was me initially). If you're one of those people, simply assess which resources you need, their original price and decide if paying $37 USD (AID $50) is a good value for YOU!
Everything else will be a bonus and you might learn a lot of new things that you didn't even think you wanted or needed to learn. That's what happened to me with this particular bundle and why I think ALL the ladies should get one!
I thought I'd share a full list of what's inside the bundle (divided into categories), what each product is about and its original value.
Please remember, it's a flash sale so the bundle is ONLY available for 48 hours. I apologise in advance if you read this post too late and it's already gone. If there is a particular product you're after, you can always find it on the author's website.
Check out Women's Wellness Bundle here
---
Chronic Illness (6 products worth $720.92)
9 Common Symptoms Candida Can Cause Women

(and what to do about them) by Paula Miller (eBook) $6.95 –

Learn how to relieve some of the most common symptoms women experience with candida overgrowth.

Foundations of Yoga for Chronic Pain and Fatigue

by Melissa Reynolds (eCourse) $69.00

–

Four weeks to show you how the tools of yoga can help you in your journey.

Hair Loss: It's Reversible without Drugs, Creams, Injections, and Steroids

by Jill Grunewald (eBook) $24.00 –

Reversing hair loss is an inside job and this powerful ebook by a health coach who's had alopecia, off and on, for 35 years will show you some of the primary causes of shedding, including holistic ways of reversing it.

Healthy Gut Institute

by Dr. John Dempster, ND (eCourse) $349.00 –

Helps you avoid the common pitfalls of disruptive digestive issues and teaches you how to heal, seal, and restore your gut health so you can finally take back control of your life.

Mystery Symptom Master Class: Solving the Root Cause of Your Chronic Illness

by Holly Bertone (eCourse) $247.00 –

Learn the root causes of your mystery symptoms and empower yourself to change the trajectory of your healing journey.

The Hope for Breast Cancer Documentary: Digital Film Bundle by Dr. Eric Zielinski (Documentary) $24.97 – A story of encouragement, empowerment and inspiration following one woman's journey across 2 countries and 23 treatments with 1 hope.
---
Fitness & Physical Health (5 products worth $395.96)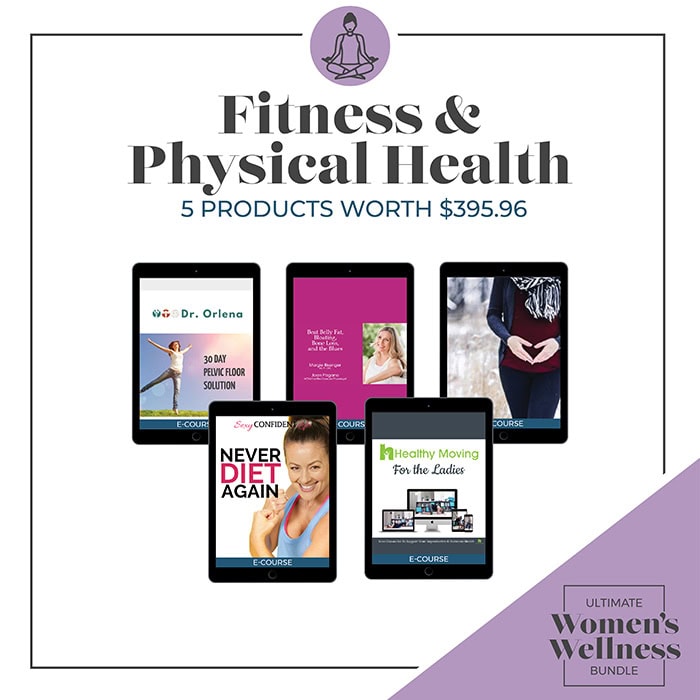 30 Day Pelvic Floor Solution

by Dr Orlena Kerek (eCourse) $199.00 –

Learn to sneeze without fear in 30 days.

Beat Belly Fat, Bloating, Bone Loss, and the Blues: Simple Steps to a Better You

by Margie Bissinger (eCourse) $50.00 –

Rid yourself of excess belly fat, banish the bloat, increase your happiness and improve your bone and overall health

Comforting The Core: Moving Through Miscarriage & Infant Loss

by Beth Learn (eCourse) $29.97 –

This 4 lesson course will help you move through the loss of your baby by providing gentle exercise videos, interviews with qualified professionals, verbal processing tools, links to resources, and emotional reframing techniques.

For the Ladies

by Jen Hoffman (eCourse) $59.99 –

Includes nine classes to provide you with well-rounded movement, exercise, and relaxation practices to support your reproductive and hormonal health!

Never Diet Again: "The Sexy Confident Woman Formula"

by Anna Renderer (eCourse) $67.00 –

Stop dieting and start dominating with this 21-day revolutionary program to end the vicious cycle of extreme dieting, feeling burnt out and doubtful so that you can finally feel happy & satisfied with your health and fitness. – One of my favourite products, I love this fitness coach!
Check out Women's Wellness Bundle here
---
Food & Healthy Eating (11 products worth $544.90)
10 Weeks to Clean Eating Guided Journal

by Payton Foeller (Workbook) $11.99 –

Walks you through the 10 weeks to clean eating challenge!

13 Guided Mindful Eating and Body Wisdom Meditations

by Jenny Eden Berk (Audio) $50.00 –

A collection of calming and empowering guided food, body and wisdom meditations.
28 Day Break Through! Signature Cleanse

by Brenda Janschek & Naomi Judge (eCourse) $70.00 –

GET READY! for glowing skin, vibrant health and renewed energy! – One of my favourite products, I've met both of the authors and they know their stuff!
57 Delicious Dairy Free Keto Recipes

by Mira Richard-Fioramore (eBook) $11.99 –

An easy & delicious eCookbook. – This lady managed to get her PCOS under control with low-carb, sugar-free, gluten-free diet!
7 Days To Drink Less

by Georgia Foster (eCourse) $149.97 –

Drink less alcohol in just 7 days without having to quit!

Easy Grain-Free

by Raia Todd (eBook) $5.99 –

Full of simple and delicious paleo recipes that all happen to be 100% healthy, too! Breakfasts, snacks, lunches, desserts, and drinks are included with options to fit keto/low-carb and GAPS Diets, as well.

Eat Like a Bear Manual: Half My Size at 50

by Amanda Rose (eBook) $9.97 –

Lose life-changing amounts of weight eating This book leverages Amanda Rose's distinct approach to weight loss and, at just 18 months old, boasts a dozen triple-digit weight loss cases among women over 40.

Healthy Diets: Exploring Major Healthy Diets to Find the Right One For YOU!

By Wardee Harmon (eCourse) $97.00 –

Contains the Healthy Diets eBook, 7 streaming interview-style videos, and access to a private group for support. – This is a great course!
Intermittent Fasting for Better Health: The Purposeful Nutrition Guide to Weight Loss, Balanced Blood Sugar, and More Energy

by Jennifer Dages (eBook) $10.99 –

This is a simple guide to intermittent fasting for those struggling with weight gain and potential insulin resistance.

Sugar Detox Program

by Dr David Jockers (eCourse) $97.00 –

A 30-day, online program that covers the ENTIRE approach to fix the root cause of why you're craving sugar and heal your thyroid, adrenals, lose weight and burn fat.

The Importance of Iron

by Deborah Hanyon (eBook) $30.00 –

What you need to know about iron and its relationship to good health, and what you can do to prevent deficiency of this crucially important mineral. – Not something I was looking for but found very interesting!
Check out Women's Wellness Bundle here
---
Fertility & Pregnancy (7 products worth $101.92)
50 Shades of Green: The Pregnancy and Fertility Edition

by Wendie Schneider & Lauren Manaker (eBook) $11.95 –

Recipes to support women on their pregnancy and fertility journey.

Beginner's Guide to Growing Baby: Tips to Help You Through All Four Trimesters

by Bonnie Way (eBook) $9.99 –

Friendly, honest advice about enjoying your pregnancy and making the best decisions for you and your new baby.

Help! My Baby is Preterm

by Ewoma Ogbewe (eBook) $6.27

–

This book takes you through some of the emotions faced by parents of a preterm baby as experienced and researched by a mother of one herself.

Naturally Fertile

by Gemma McBride (eBook) $6.79 –

Step-by-step guide to getting pregnant naturally.

Pre-Conception Ninja: Meal Plan and Recipe Book

by Alexx Stuart (eBook) $39.00 –

A 1-week Fertility Ninja meal plan and recipe book to nourish your body ready for a bub! – One of my favourite authors, full stop!
The Gentle Guide to Labour and Childbirth

by Katie Schablon (eBook) $15.00 –

Learn how to use essential oils and acupressure points for a more gentle birth experience, and how you and your birth partner can use these tools safely to help with pain relief, contraction efficiency, calming, and focus and energy.

Well & Good: Supercharge Your Health for Fertility and Wellness

by Nat Kringoudis (eBook) $12.92 –

This book will set you on the path of priming your body for complete hormone wellness – because fertility is far more than babies – it's about taking control of your health on all levels. – Another fantastic Aussie expert!
---
For Moms (5 products worth $505.95)
A Mother's Meditation Card Set

by Holly Chubb (Printable) $10.00 –

30 days worth of meditations to read that help restore peace in a mother's soul.

Calm in the Chaos

by Catherine Wilde (eCourse) $397.00 –

An 8-week online course empowering moms to feel calm & find their unshakable confidence!
Mommy is a Person

by Saren Loosli (eCourse) $57.00 –

Through nine powerful video segments, you'll learn how to take care of yourself as a person and find more peace and joy in your life.

Self Care for the Special Needs Mom

by Kelly Mantoan (Workbook) $14.95 –

This workbook gives special needs moms the tools they need to better care for themselves, and ultimately, their children in small actionable steps.

You've Got This: 5 Minute Meditations for Mommas

by Jenna Drew Dancy (Audio) $27.00 –

Five 5-minute meditations designed to fit into your hectic lifestyle that are tuned to the frequency of 432hz for added relaxation.
Check out Women's Wellness Bundle here
---
Hormones (7 products worth $334.78)
Best of The Fix for Female Hormones

by Misty Williams (Summit) $99.00 –

Tired of being flabby, foggy and fatigued? Learn how to regain energy, recharge your brain, overcome illness and get your body back! – This is a fantastic, comprehensive resource on various hormonal issues women experience. Highly recommend!
Fix Your Period Cleanse

by Nicole Jardim (eCourse) $47.00 –

This cleanse is a simple, food-based protocol that any woman can do that will help press the reset button on your hormones.

Natural Approaches to the Management of PCOS: Finding Balance

by Herbal Academy (eCourse) $39.00 –

Learn how the use of carefully selected herbs, supplements, and lifestyle choices can effectively support women with PCOS.

Perimenopause: The Savvy Sister's Guide to Hormone Harmony

by Anna Garrett

(eBook) $12.79 –

This book guides women through what to expect in perimenopause and steps they can take to make their experience empowering vs. miserable.

Power Up Your Period: Decode Your Menstrual Cycle for Greater Productivity

by Karen Shopoff Rooff (eCourse) $27.00 –

Learn how the hormonal shifts of your menstrual cycle can be used to your personal and professional advantage when you eat and exercise to work with your body's natural rhythms.

Secrets to Controlling your Weight, Cravings and Moods

by Maria Emmerich (eBook) $9.99 –

This book takes a deeper dive into how we can balance our moods and neurotransmitters through diet and supplements.

14 Day Thyroid Alive! Kickstarter Program

by Stephanie Wharton

(Course) – $97 –

The program that believes our bodies were designed to do amazing things!
---
Menopause & Beyond (6 products worth $212.99)
Ageing Gracefully

by Jillee Nystul (eBook) $19.99 –

You'll find both "do-it-yourself" beauty treatments and recommendations for store-bought products within these pages, so you can pick and choose the solutions that fit your unique beauty goals and budget.

Menopause Symptoms Tracking Journal

by MaryJo Scamurra (Printable) $7.00 –

Take control of your menopause symptoms by tracking them and charting patterns and triggers.
Preparing Your Garden for the Golden Years

by Christine Dalziel (eCourse) $47.00 –

Helps gardeners plan for appropriate adaptations to their current garden, a little at a time, so that they can accommodate the vulnerability that comes with ageing, for improved quality of life.

The Alchemy of Menopause

by Cathy Skipper (eBook) $22.00 –

Menopause is a shamanic initiation not a disease – step into your power and become who you truly are!

The Science of Longevity

by Sayer Ji (eBook) $50.00 –

Learn about the science behind the longevity of your life.
Your Best Years Start Now

by The Art of Anti-Aging (Summit) $67.00 –

All 21 interviews and transcripts to get the most powerful secrets to look younger, feel amazing, and live a long life doing it!
Check out Women's Wellness Bundle here
---
Mental & Emotional Health (8 products worth $702.87)
Emotional Resilience Training

by Georgia Foster (eCourse) $149.97 –

Emotional Resilience is easy when you know-how!

Happy Calm

by Lisa Grace Byrne (eCourse) $179.00 –

Teaches tools to keep you calm, balanced and flexible so you can live a full and happy life.

How to Live Simply and Reduce Stress

by Angi Schneider (eCourse) $17.00 –

Learn how to create a vision for your life, how to get your home and finances in order, how to decide what to spend your time on, and how to live a life of contentment and gratitude.

Love & Boundaries

by Beautiful Minds Wellness (eCourse) $197.00 –

Helps you set and maintain healthy emotional boundaries.

Mastering Your Stress for Busy Moms: Simple Tools to Transform Stress for Good

by Katie Kimball, CSME (eCourse) $34.95 –

Managing stress isn't working – time to learn to MASTER your stress, for the good of you as a busy mom AND your whole family.

#MotherHustler Mindset

by Brianna Berner (eCourse) $67.00 –

Feel energized, unstoppable, and in control by taking the reins and building a life you're wildly passionate about.

Ultimate Art Therapy Adult Coloring Book

by Sarah Renae Clark (Printable) $7.95 –

Rediscover the joy of coloring and bring out your creative side.

Wellness from Within: Five Emotional Release Exercises

by Leah Lesesne (Workbook) $50.00 –

Learn how to tap through your feelings with these five emotional release exercises to engage your body, mind, and spirit in healing.



---
Natural Health (5 products worth $185.58)
30 Days To A Toxic Free You

by Katherine Kyle (eBook) $15.00 –

Everything you need for a toxic-free life.

All Things "V": The A-To-Z Guide To Outsmarting Dryness And Irritation Down There!

By Dr Anna Cabeca (eBook) $11.00 –

The ultimate woman's guide to feeling happier and healthier "down there".

Aromatherapy for Women Reference Guide

by Deanna Russell (eBook) $7.59 –

Your quick resource for the best essential oils for women to use, for all the major stages of life (bonus topics include stress and weight management).

Feminine Wellness: A Beginner's Journey to Natural Period Alternatives

by Lisa Van Groningen (eBook) $2.99 –

Paving a way to change the world of women's wellness.

The Basics of Holistic Herbalism

by Monica Mitzel (eCourse) $149.00

–

The perfect starting point for anyone interested in dipping their toe into herbal learning, providing a solid foundation for the casual or beginner herbalist to start developing their herbal senses.
Check out Women's Wellness Bundle here
---
Self Care & Confidence (8 products worth $727.97)
The 30 Day Self Care Challenge: Appropriate and Fun Ways to Engage In Self-Care and Be "Selfish"

by Kris McPeak (eBook) $15.00 –

Spoil yourself daily for one month and see how you feel!

Frumpy to Fabulous: The Wardrobe Course for Moms

by Corina Holden (eCourse) $79.00 –

Take your tired-out wardrobe from frumpy to fabulous in 4 weeks flat!

Mom Glow Binder: Create Your Own Healthy Self-Care Routine

by Brianna Ognibene (Workbook) $15.00 –

The Mom Glow Binder will teach you a practical step by step system to help you create your own healthy self-care routine from A to Z so you can get healthy and feel confident!

Rooted in Self-Care: 30 Ways to Practice Authentic Self-Care

by Rachel Silves (eBook) $7.99 –

Provides practical strategies and ideas to make self-care part of daily life.

The Average Girl's Guide to Living an Above Average Life

by Heather Montgomery (eBook) $3.99 –

Tips and tricks for being the best version of yourself.

Be Here Now: The Benefits of Mindful Living

by Christina Lerchen (eBook) $14.99 –

Be present in your present; living on autopilot is a habit and disengaging from it does take effort. But take it one moment at a time and it will get easier.

The Quiet Miracle

by Céline Harleaux (eCourse)

$513.00 –

A 6-week journey into self-love.
---
Skincare & Beauty (6 products worth $126.92)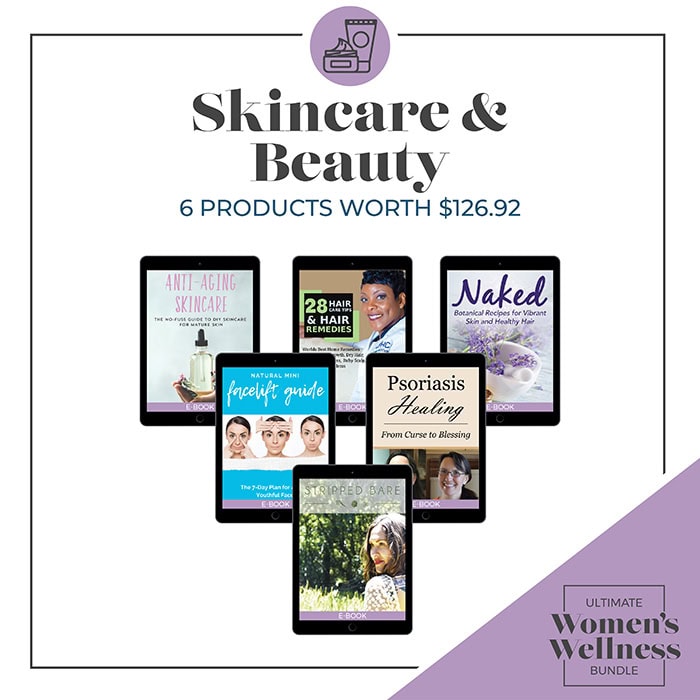 28 Hair Care Tips & Hair Remedies

by Debbie Williams (eBook) $9.99 –

You are what you eat, healthy hair starts with healthy foods. This book contains secret recipes of natural foods that promote healthy, strong, luxurious hair.

Anti-Aging Skincare: The No-Fuss Guide to DIY Skincare for Mature Skin

by Stacy Karen (eBook) $14.95 –

Learn to minimize fine lines and wrinkles, maintain a youthful glow, and create natural skincare products suitable for mature skin.

Naked: Botanical Recipes for Vibrant Skin and Healthy Hair

by Elaine Sheff (eBook) $8.99 –

Includes bountiful information about how to make natural body care products for the body, face, hair and bath.

Natural Facelift Guide: 7 Day Plan for a More Youthful Face

by Roz Walker (eBook) $17.00 –

Diminish the look of fine lines and wrinkles, brighten dull skin, even out skin tone, and tighten sagging skin to reveal your most radiant and youthful complexion. – This was quite handy, not something I was looking for but I've been using it!
Psoriasis Healing: From Curse to Blessing

by Laurie Neverman (eBook) $9.99 –

Provides a mind-body-spirit approach to healing psoriasis.

Stripped Bare Clear Skin Program by Adele McConnell (eBook) $66.00 – Get ready to glow! This guidebook will give you the know-how to nourish your body, get clear glowing skin, and how to be at peace with yourself. – Fantastic Australian lady specialising in plant-based nutrition and living, as well as natural skincare.
Check out Women's Wellness Bundle here
---
Planners & Trackers (5 products worth $80.96)
Be Healthy Mama: Fitness & Mental Health Journal

by Kara Carrero (Printable) $4.99 –

A fitness and mental health journal made specifically for women to be able to track fitness progress, menstrual cycle, emotional health, and more.

Health & Fitness Planner

by Heather Moritz (Printable) $7.00 –

If you want to make progress when it comes to your health and fitness, your success will depend on keeping track of everything you do to reach your goals.

Healthy Habit Planner

by Brandice Lardner

(Workbook) $24.97 –

Ditch all-or-nothing thinking and find a sustainable approach to habit change that sticks!

Medical Binder: Be Prepared & Get Organized Once and For All

by Ali Chovanec (Printable) $37.00 –

Provides an easy, reliable, and logical system for keep track of health information for any person who wants to receive the highest quality medical care (even when they are too sick to advocate for themselves.)

Winning At Weight Loss Daily Planner

by Diane Lowe (Printable) $7.00 –

Get ready to slide into your skinny jeans after using the planner that tracks your food and healthy habits, equips you with easy strategies for overcoming obstacles, and celebrates your wins.
---
AVAILABLE FOR 48 HOURS ONLY!