If cooking or serving a whole turkey seems like an overwhelming task this Thanksgiving or Christmas, or if you simply too busy to organise the bird ahead of time, then these delicious paleo turkey alternatives might just be the better options.
---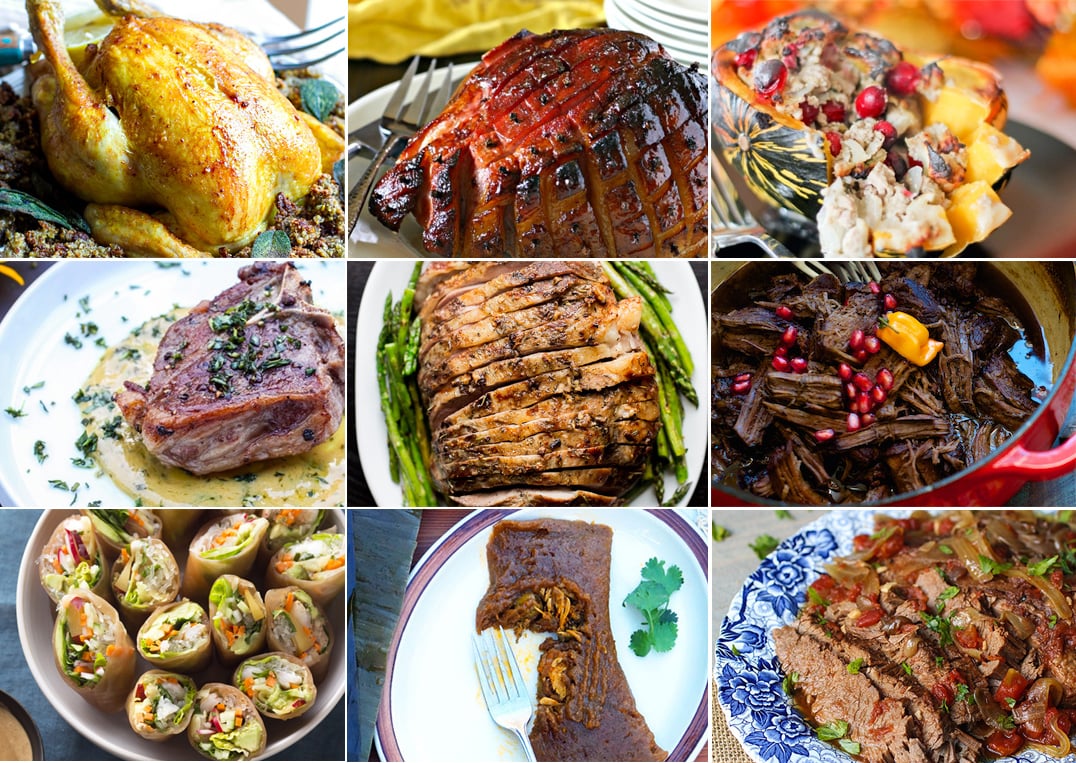 Thanksgiving is just around the corner, so I've decided to dedicate this post to some amazing, non-turkey based edible centrepieces for your festive table. Don't get me wrong, I'm all in for juicy roast turkey but it's oh-so-predictable and let's face it…slightly cumbersome main. Why not try something different this year?
Below is a list of paleo-friendly mains, including a few vegetarian options, that will the be the focus of attention at your dinner party. These are equally perfect for a family Thanksgiving or Christmas dinner, or lunch.
---
POULTRY MAINS
Other poultry like chicken is an obvious choice after turkey, and although roasted chicken is always a crowd pleaser, I wanted to include other types of poultry in this category.
Roast Chicken with Inside Out Stuffing is one of my favourite festive ways to serve whole chicken and my stuffing is all sorts of awesome. If you're hosting a small gathering or cooking for two, try my Greek-style lemon and garlic roast chicken.
This Slow Roasted Duck A Lorange with Lingonberry Port Gravy from Eat In My Kitchen makes my mouth water. You can use any other port or fruits to replicate this dish.
East meets West in this main dish of Spicy Roast Chicken With Curry Sauce & Potatoes from Isle of Flora.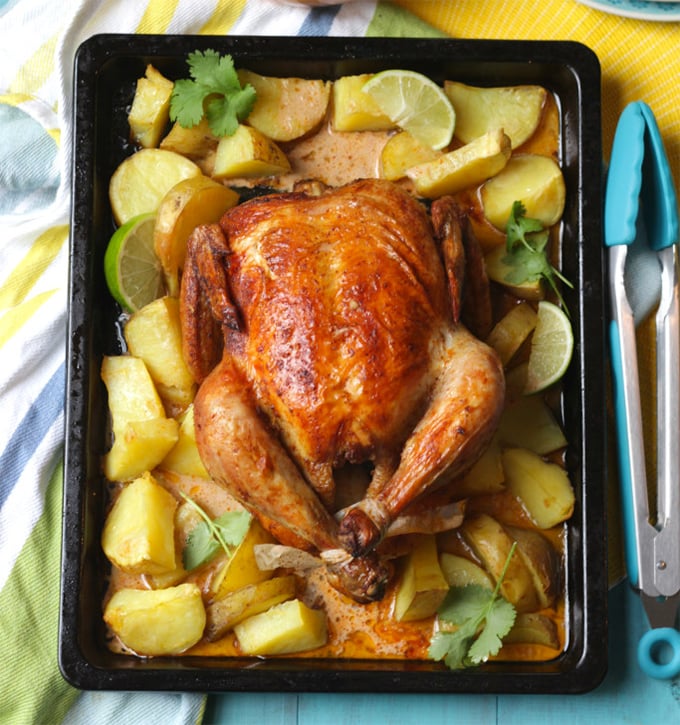 I love the sound of this Whole Roasted Lavender Duck from The Saffron Girl as well. Aromatic herbs and spices go really well with duck meat.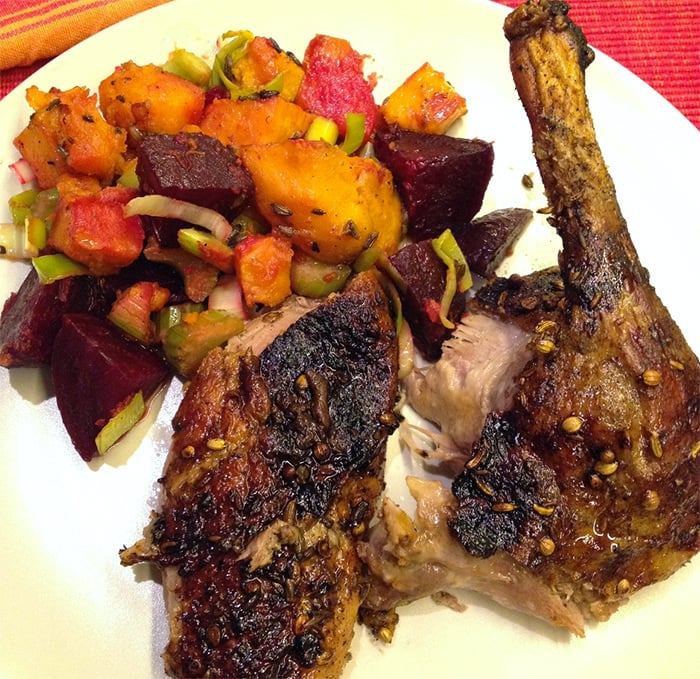 Cranberry-Glazed Quail with Jalapeno-Bacon Brussels Sprouts from Cavegirl Cuisine
Amanda from The Curious Coconut shows us how to make a Puerto Rican Pasteles – her family's Thanksgiving tradition – the paleo and AIP way.
Garlic & Basil Roasted Chicken with Squash from Anya's Eats
Apple & Herb Roast Chicken from Real Food With Danna
Paleo Chinese Tamari Honey Glazed Chicken Drumsticks from Paleo Flourish Magazine
---
FISH & SEAFOOD MAINS
My recipe for Whole Baked Trout with Onion & Herb Salsa would make a great main dish for a Thanksgiving or Christmas dinner. You can use any whole fish in this recipe.
Half Shell Scallops from Well Nourished are not only delicious (cooked with garlic, parsley and slivered almonds) but they also look sensational, and even though they are on the lighter side, they would be a great platter to have on your dinner table.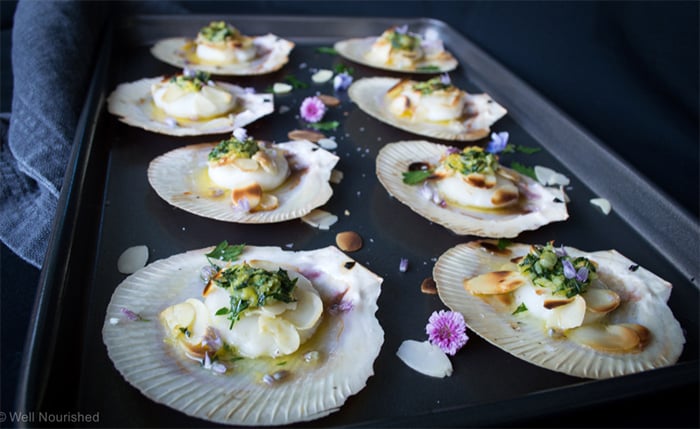 For something more adventurous you could learn How To Boil A Dungeness Crab from Paleo Flourish and serve it with some garlic butter sauce.
Roasted Sea Bass Provencal from Relish
Cauliflower Fish Pie from Lady Homemade
---
LAMB MAINS
Macadamia-crusted Rack Of Lambs With Roasted Tomatoes
This Roasted Leg of Lamb from The Domestic Man is absolutely sensational and would be great as a centrepiece dish.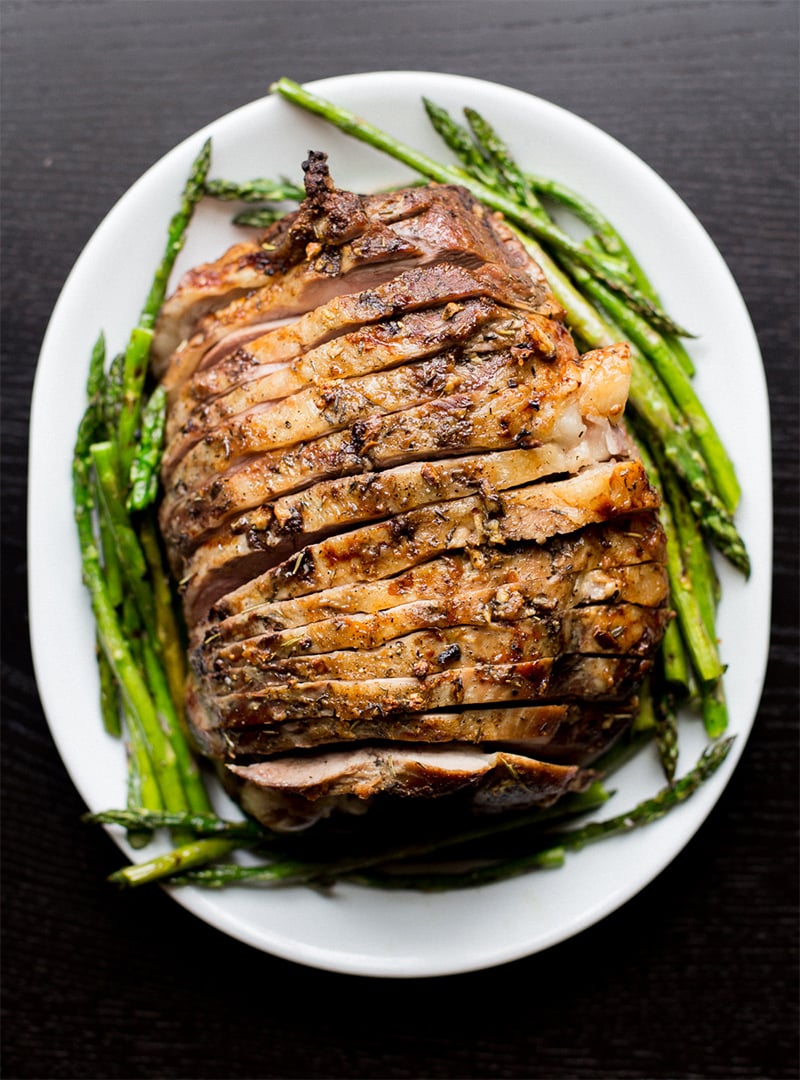 Lamb Loin Chops with Tarragon Sauce from Anya's Eats – sophistication on the budget.
Jalapeno-Pesto Minty Rack of Lamb from Cavegirl Cuisine
Italian Stuffed Leg of Lamb from Gutsy By Nature
---
BEEF MAINS
Pomegranate Habanero Shredded Beef from Stupid Easy Paleo (paleo and whole30 approved) – looks like this might be complicated but in Steph's usual style, this dish is stupidly easy!
Roasted Stuffed Pumpkin with Balsamic Beef from Comfort Bites.
Slow Cooker Beef Brisket With Tomatoes & Onions from Anya's Eats.
Epic Roasted Prime Rib from The Paleo Parents
Balsamic Roast Beef from Paleo Leap
---
PORK MAINS
Roasted pork tenderloin with mushrooms and balsamic onions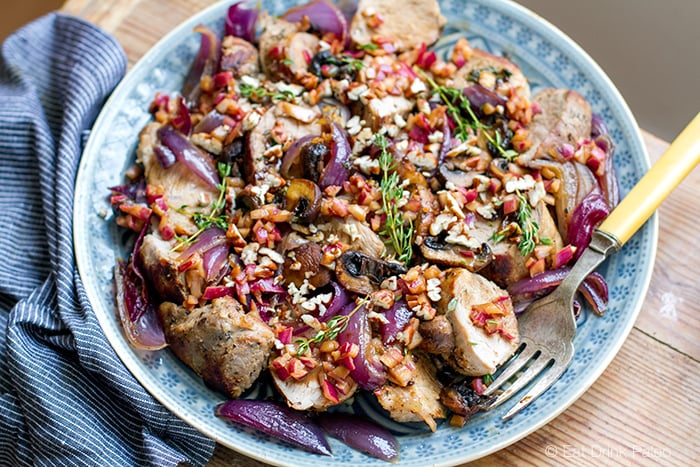 Crispy Pork Belly from The Merrymaker Sisters – ground coriander, garlic, thyme and salt are some of the gorgeous seasonings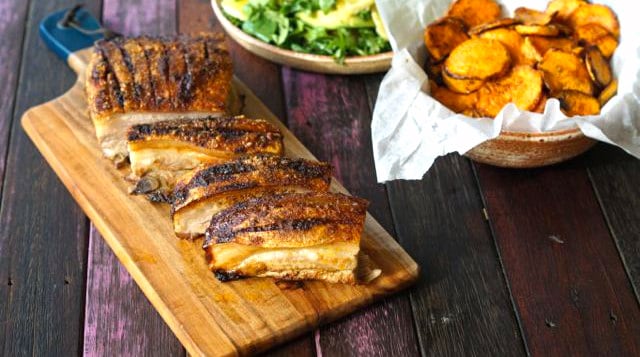 Or you can try this Pork Belly Roasted with Garlic & Cider from Comfort Bites. And learn how to make the perfect pork crackling every time from The Sistermixin.
And who doesn't love a good glazed ham!?! Learn how to cook an amazing looking, paleo friendly glazed smoked ham from Everyday Maven.
---
VEGETARIAN-FRIENDLY MAINS
Baked Sweet Potatoes With Walnut & Parsley Crumbs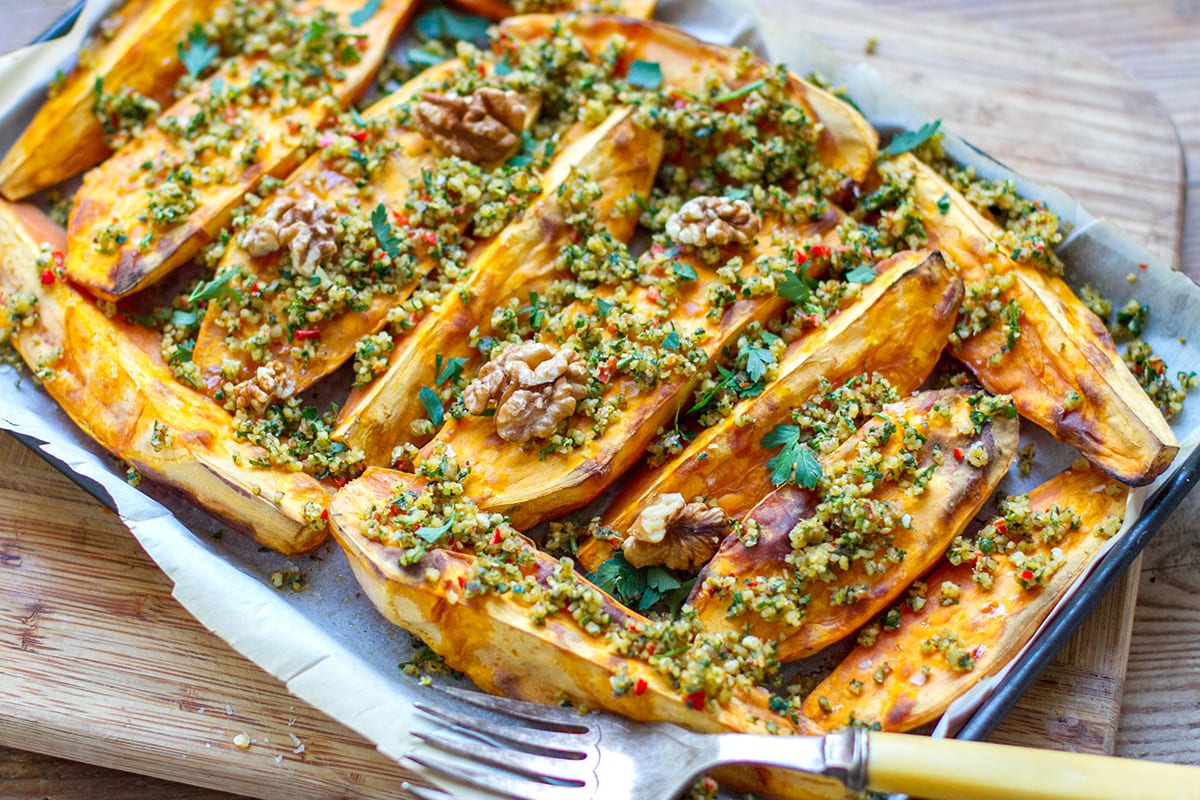 Sweet & Spicy Stuffed Quinoa Pumpkin from Tales of A Kitchen
Roasted Mushrooms with Thyme from Paleo Leap
Seed & Carrot Roast Loaf from Trinity's Kitchen
Whole Roasted Tandoori Cauliflower from My New Roots
Paleo Nut Roast from Inquisitive Foodie
Sesame Roasted Sweet Potatoes from Pinch of Yum
---
TURKEY WITH A TWIST
Want to stick with the tradition of serving up turkey but with an added a twist? Try one of these variations.
Perfect Smoked Turkey from The Domestic Man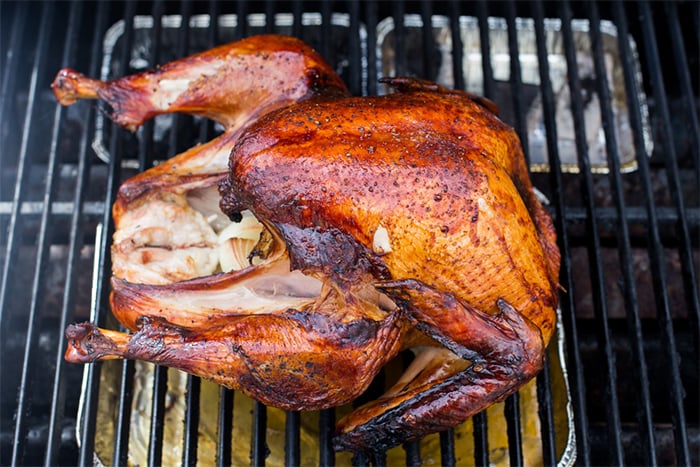 Stuffed Turkey Breast from The Saffron Girl
Thanksgiving For Two – Turkey & Cranberry Stuffed Squash from The Primal Desire
Cranberry Glazed Turkey Meatballs from Plaid & Paleo or Smoke Roast Turkey Breast from Zenbelly
Do you have a favourite alternative to roast turkey or a traditional family dish you serve up for Thanksgiving? Have a question? Leave a comment below.
---