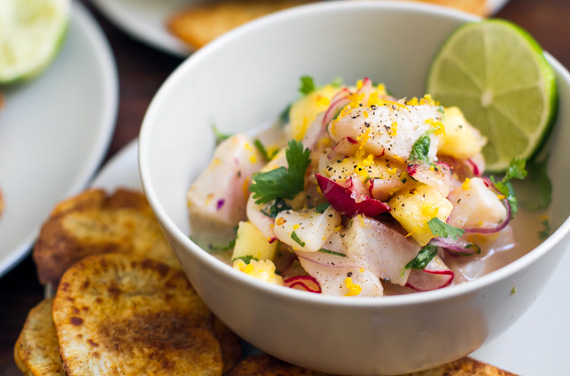 Recipe: Fish & Pineapple Ceviche With Yam Chips
If you've never had ceviche, the best way to think of it is as a South and Central American version of sashimi. Made with raw fish or seafood that's briefly marinated (cooked) in citrus juices and other flavourings, ceviche is one hell of a healthy dish. Boasting protein, essential fatty acids and minerals and tonnes of zing and flavour, it's one of my favourite things to make.
Cook's notes
You can make ceviche with white fish (tilapia, snapper, ling), salmon, tuna, prawns or scallops but the key is that your chosen seafood must be super fresh. I recommend asking your fishmonger about the freshest seafood that day and go from there.
I used purple skin yams for the chips as the sweetness of root vegetables offsets the acidity and saltiness of the ceviche perfectly. You can use red or purple sweet potato, carrots, pumpkin or beets instead. Even white potato will do, although it's lacking the sweetness we're after and has a higher glycemic index.
Pineapple can be replaced with mango, while radish can be replaced with red peppers, jicama root or cucumbers. If coriander (cilantro) is not your thing, you can use parsley, chives or basil instead.
Ingredients
For ceviche
2 fillets of tilapia white fish, skin off
1 cup diced ripe pineapple
5 radishes, thinly sliced or shaved
1/2 red onion, thinly sliced
1 tsp lime zest (save the lime for the juice)
1 tbsp orange zest (save the orange for the juice)
1 tsp finely chopped green or red chili
Juice of 2 limes
Juice of 1 orange
1 tsp coriander seeds
1 tsp sea salt
1 1/2 tbsp fish sauce
1/2 tsp honey
1/2 tsp black pepper
1 tbsp diced fresh coriander
For yam chips
1 medium red or purple yam (sweet potato), peeled and thinly sliced
1 tsp sweet paprika
1 tsp pumpkin pie spice (replace with a mix of cinnamon & allspice)
3/4 tsp sea salt
3 tbsp virgin olive oil
Flat baking tray
Instructions
Preheat over to 200 °C (400 °F). Peel and slice the yams and mix with spices, salt and olive oil in a bowl until well coated. Layer the chips on a baking paper covered flat roasting tray and bake for 25 minutes, turning over half way through.
Place radishes, pineapple, lime and orange zest, sliced onion and chili in a bowl. Quickly pan fry coriander seeds in a small frying pan until slightly toasted to release the aromas, about 30 seconds. Crush with mortar and pestle or a spoon and add to other ingredients. Add lime juice, orange juice, salt, honey and fish sauce.
Cut fish into small cubes or thin slices, add to the bowl with juices, sprinkle with some black pepper and toss through using your hands. Add fresh coriander and mix through again. Leave for 10 minutes, stir a couple of times to make sure the fish is cooking through evenly. Serve in bowls with yam chips on the side.
Preparation time: 30 minutes
Cooking time: 25 minutes
Number of servings: 2-3 if served as a main dish and 3-4 is served as a starter