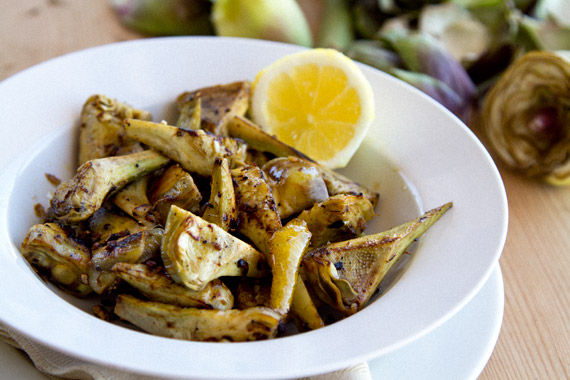 Recipe: Pan-fried Artichokes with Lemon, Garlic & Anchovies
Many people get artichoke hearts in a jar and for a good reason – cooking with fresh artichokes is a bit of work and creates quite a mess. Even though an artichoke looks like a large vegetable, once you get to the edible part – the artichokes hearts – there really isn't much to play with. As a result it may seem like you need to get through a whole bag of them to get a full meal out. BUT, as a vegetable, artichoke is super filling and you only need a couple of hearts per person when serving as a side dish to meat or fish. It also tastes so different when prepared fresh so I really encourage you to try it when in season.
If you don't know how to prepare fresh artichokes for cooking, you can check out a step by step process here. You can use asparagus or broccoli instead of artichokes as the flavours in this recipe work with many other vegetables. If you get younger, smaller artichokes, the fluffy choke inside is underdeveloped and can be eaten as well.
How to make an artichoke pesto
Ingredients
4 fresh artichokes
3-4 lemon peels
1/2 lemon, juice only
1 garlic clove, finely diced
4-5 small anchovy fillets, finely diced
A pinch of sea salt
A pinch of black pepper
1 tbsp ghee
Instructions
Peel and prepare artichokes following this step by step process. Cut the hearts into quarters. Preheat some ghee in a large frying pan or a wok until sizzling hot. Add artichokes and lemon peel, stir and cook for 1-2 minutes. Bring the heat down to medium. Add anchovies, garlic, salt and pepper. Stir and cook for 2-3 minutes. Drizzle with juice from 1/2 lemon and serve with extra lemon on the side.
Preparation time: 15 minutes
Cooking time: 5-7
Number of servings: 2