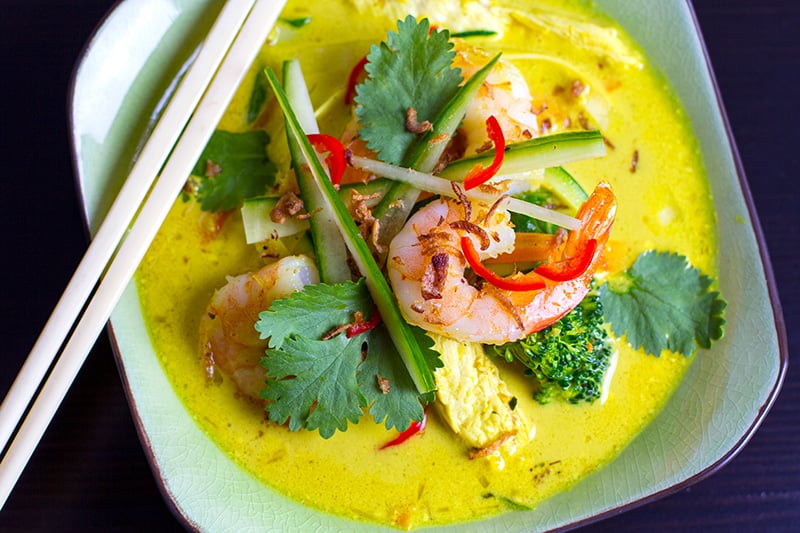 If you had to pick your 'last meal', what would it be? For me, Laksa would have to be in the top five. If you haven't heard of or tried Laksa before, it's a coconut-based curry soup from Malaysia, which fuses Malay, Thai and Chinese flavours and ingredients. Very common and popular in Australia, the dish features a handful of noodles, tofu puffs, bean sprouts, crispy vegetables and a selection of meats or seafood served in the most glorious, fragrant, spicy coconut soup.
I seriously want to sing Hallelujah when I sip a good Laksa broth. I love its rich flavours and the warmth you get from all the spices and the chilli. And although many would argue of what the authentic Laksa should taste like, the truth is that it comes in many varieties and even the most typical Laksa Lemak can be cooked in many different ways. For example, although it's a Malay dish, I often order it in Thai restaurants.
The best part is that Laksa can be a perfect Paleo dish! Ditch the noodles and tofu, add extra veggies, some protein and et voilà – you have a delicious meal with the desired ratio of proteins, carbs and fats. Sure, it's much easier to go and get a bowl of Laksa in Chinatown or from your local Thai take away shop, but there is something super cool about making it from scratch. And you know what? It's actually very easy, if you give yourself enough time and you can get the right ingredients.
More Paleo Thai recipes:
Paleo Pad See Ew with Zucchini Noodles
Chicken Larb Salad With Red Cabbage
Spicy Pumpkin Coconut Soup
If you have little time or can't find ingredients like fresh galangal or turmeric roots, I've provided a few tips and alternatives. Another quick note, I did use a little bit of palm sugar to balance out the salty and sour flavours – I just couldn't butcher the authenticity of this dish. There is a great write up on using a little bit of certain sugars while eating Paleo on this blog. By all means, leave the sugar out if you want, or replace it with honey or coconut sugar, and it will still taste pretty damn good.
The foundation of any Laksa soup is a Laksa curry paste, which I make from scratch and you can find the recipe here. You can also use a store-bought Laksa paste or a mixture of red and green curry pastes, as that's the closest to Laksa.
You will need a large pot or a saucepan to fit all of the soup, plus meat and veggies. I used chicken and prawns in this recipe, but you can easily replace those with beef, scallops and fish. The reason I use salt-reduced chicken stock is because I like to control how much and what type of salt I add to the dish. Pre-packaged stocks have so much sodium and it is often disguised by sugar and other things, so I would rather use more fish sauce for both saltiness and flavour. Ok, let's get started!
Cook's notes: My Laksa paste is not as spicy as some of the imported varieties, so 5 tablespoons of serious red curry paste might blow your head off. Start with 3, if you're not sure and always have a little taste of the paste itself. If you can't find all the ingredients, you can use mild curry paste, some fresh garlic and ginger, and whatever other ingredients from the laksa paste that you can find.
I used full-fat coconut oil form a can (look for 55-60% coconut content) and I put one of the cans in the fridge to thicken, and that's where I scooped out the coconut cream from. The other can is simply shaken, and that's your coconut milk.
Chinese broccoli can be replaced with collard greens or chard. You can use a vegetable spiralizer to prepare carrot and zucchini noodles, which would work fabulously in this soup.
Print
Paleo Chicken & Prawn Thai Laksa
Author:

Prep Time:

15 mins

Cook Time:

30 mins

Total Time:

45 mins

Yield:

4

1

x
Category:

Soup

Cuisine:

Thai/Malay
---
Scale
Ingredients
1 tablespoon

coconut oil

5 tablespoon

s Laksa curry paste (see the recipe link above)

1

+

1/2

chicken breasts, sliced into strips

500

ml / 2 cups salt-reduced chicken stock

4 tablespoon

s fish sauce

1 tablespoon

grated palm sugar (yeah, not really Paleo but won't kill you in small dozes, leave it out if you want)

1

fresh lime (juice)

400

g / 0.9 lb peeled prawns, tails on or off (up to you)

400

ml full-fat coconut milk (shake the can first, about 1 +

1/2 cup

s of milk)

100

g coconut cream (the thickened part of coconut milk, about

1/2 cup

or just under)

5

leaves of Chinese broccoli (Kai-lan), with stalks, roughly sliced
Half of broccoli head, cut into small florets

1

carrot, peeled and sliced into strips or shaved into ribbons

1

zucchini, slices into thin strips or shaved into ribbons

1

Lebanese cucumber, sliced into thin strips or shaved
Fresh coriander (cilantro), fried shallots & diced red chilli, for garnish
---
Instructions
Heat coconut oil in a large saucepan over medium heat. Add the laksa paste and cook, over medium heat, for about 1 minute, stirring continuously to prevent sticking or burning. This process toasts the spices and releases all those beautiful flavours and aromas. Add more coconut oil if the mix dries up.
Increase the heat to medium-high and add the chicken. Stir through for a minute.
Pour in the stock, and add the fish sauce, palm sugar and juice of 1 whole lime. Bring everything to a boil.
After a couple of minutes, turn the heat to low and add the coconut milk and cream. Stir through and turn the heat down to low heat and simmer for 10 minutes, lid on.
You can prepare the vegetables and garnishes while the soup is cooking away. Have a few thin slices of chilli and fresh coriander leaves ready for garnish.
It's time to finish off the cooking. Bring the heat back up to medium-high and add the Chinese broccoli, regular broccoli and carrots to the soup. Stir and cook for 1-2 minutes. Add the prawns and zucchini last as they require minimal cooking, about 2 minutes. A good way to tell if the prawns are cooked (besides actually tasting one) is to look for when they start to curl and change to white/pinkish colour. Turn the heat off at this stage.
Serve a mix of chicken, prawns and vegetables with a couple of ladles of soup, garnished with fresh cucumber, coriander and chilli on top.
---
I hope the whole process doesn't scare you too much. It really is a lot of fun to make your own Laksa and you should get your family and friends involved in the kitchen. To use the laksa paste in a curry stew, simply add coconut milk or cream with just a little bit of stock for a rich, thick gravy.