Halloween is usually all about treats and dressing up. The treats can be a little tricky for us healthy types but it certainly doesn't mean we have to go without. If you're going to let loose this Halloween, here are some spooky ideas and recipes for healthier Paleo treats and finger foods. Start party planning!
These clever Yummy Mummies (a.k.a. Halloweenies), made from sausages and potato are from Michelle at Nom Nom Paleo.
Another take is these Mummy Fingers from Paleo Leap, plus they have lots of other Halloween ideas.
Roasted Sweet Potato Jack-o-Lantern Faces and Ghosts is from Guava Rose. You could do a savoury version of these by adding spices and herbs, or a sweet version drizzled with honey and cinnamon. Yum!
Ghost Bananas and Tangerine Pumpkins from Weelicious – one way to get some vitamins into your kids.
These scary Monster Teeth Apple Bites are from Fork and Beans. Check out her website for loads of other great gluten, egg and dairy free Halloween treats.
Paleo Halloween Cookies from Mellow Momma make a great treat for any trick-or-treaters that stop by your house. The Spiders are made of almonds and some Paleo-friendly chocolate.
These Homemade Gummy Worms from The Earthy Mama are great – slimy and sour and fun to eat! Serve on a bed of crumbs (dirt) of your favourite paleo brownies or chocolate cookies (you'll only need one piece of brownie for the dirt – dry a square out in an oven on low heat if it is too moist to make crumbs).
Get some great decorating ideas from these Paleo Halloween Cupcakes from Elana's Pantry. Search her site for some other great Halloween posts and recipes.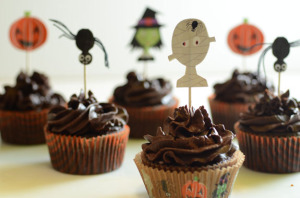 How cute are these Halloween Spider Deviled Eggs!? Decorate your favourite deviled eggs with olive 'spiders'. Try one of these Paleo friendly devilled eggs recipes. See instructions for the olive spiders on Apron Strings.
Use oranges, mandarins, berries, grapes and celery to create this quick and simple Jack-o-Lantern Fruit Plate from Wholesome Dinner Tonight
Paleo Ghost Truffles from Living Healthy With Chocolate are almost too cute to eat.
Try stuffing capsicum or tomatoes with yummy meat or vegetable based stuffings and cut faces out of them like these ones from Primally Inspired.
Spook up your favourite pumpkin soup recipe by serving it decorated with creamy spider web like this version from Paleo Girl's Kitchen. You can also use our Spicy Pumpkin Coconut Soup recipe or our Sweet Potato, Caramelised Garlic and Toasted Pine Nut Soup recipe.
For the grownups – spice up your coffee with this recipe for Paleo Pumpkin Spice Latte with whipped coconut cream from The Nourishing Gourmet.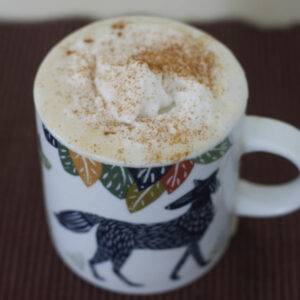 We even found these awesome Pear Ghosts on Tesco's website. Did you know they have a section for 'real food' recipes? Way to go.
---
Do you have a favourite healthy Halloween treat? Share you suggestions and favourite recipes/links below. Otherwise, we wish you a very scary-licious Halloween.