This paleo-friendly Mongolian chicken is based on the classic Chinese takeout favourite but is free of gluten, grains, MSG and refined sugar. Served over zucchini noodles, it makes for a tasty, nutritious meal.
---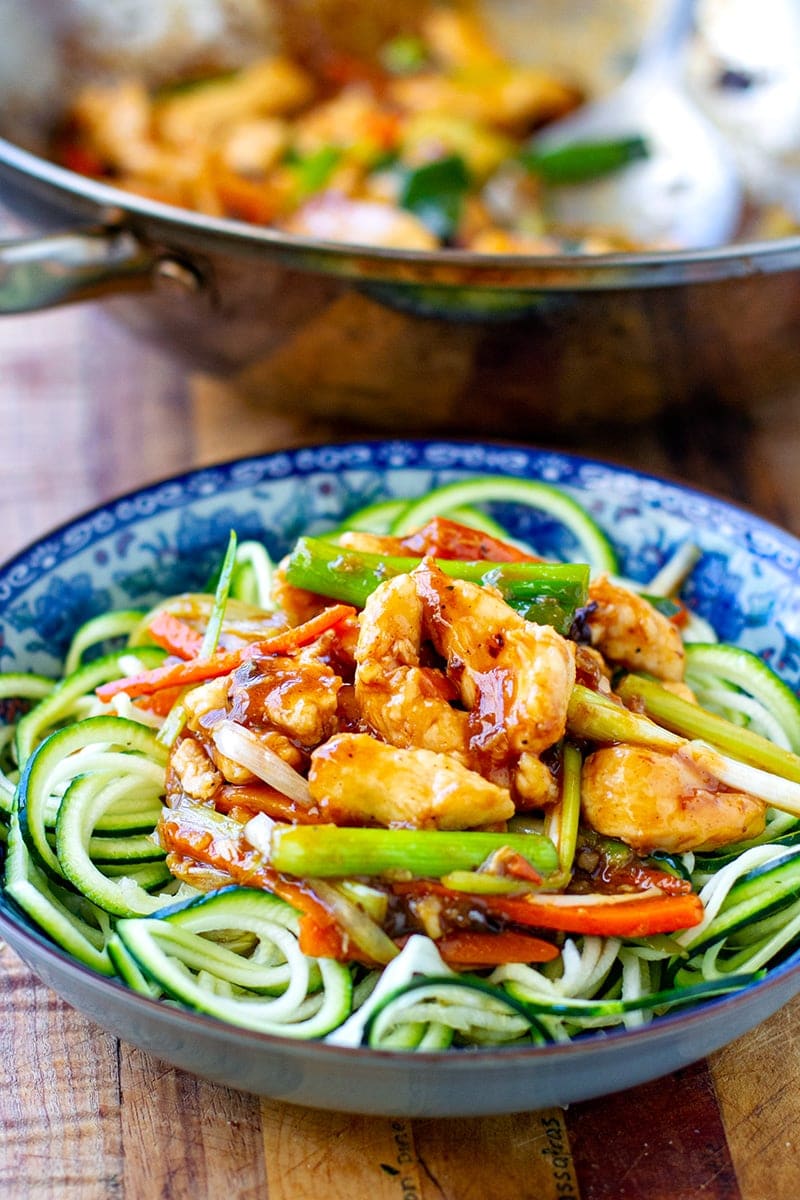 Mongolian beef is a popular Chinese-American/Chinese-Australian dish that actually originated from Taiwan where Mongolian BBQ became popular a few decades ago. The recipe has nothing to do with the authentic Mongolian cuisine but the name has stuck and it's become one of the most loved dishes.
If you've tried the beef version, you would know that the dish is all about the brown sauce. It has that rich sweet, salty and umami flavour that's derived from combining hoisin sauce and soy sauce with the additions of chili, garlic and in many cases extra sugar.
Paleo-friendly Mongolian Stir-Fry Sauce
As an experienced recipe developer, you often know what something will taste like by looking at the recipe ingredients. When searching for paleo-friendly Mongolian beef recipes I came across quite a few but upon checking the sauce ingredients, I knew (even without trying) that they just wouldn't taste close to the real thing.
I really wanted to develop something that would come close to what I know as Mongolian beef sauce. Also, I wanted to change up the protein to chicken but you can, of course, use the same sauce with beef, lamb, pork or veggies. I've already developed a paleo-friendly hoisin sauce before, so I started working off that and researched the ingredients in the Mongolian beef sauce to see what I can use instead that's more compliant.
I was quite pleased with the flavour and texture of the sauce. In addition to the more predictable ingredients like honey, fish sauce and coconut aminos or Tamari sauce, I ended up using prunes, tomato paste and Chinese five spice powder, which you don't often see in other paleo recipes but they really make a difference. You can re-use those ingredients for other recipes, so don't be afraid of stocking up on new things.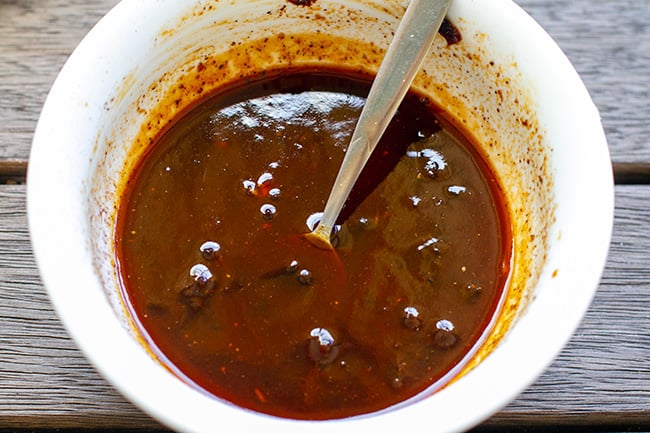 I served the finished Mongolian chicken stir-fry over lightly warmed up zucchini noodles (seriously, you don't need to cook them) but you could also make some cauliflower rice or steamed greens. Those of you who eat regular rice or rice noodles, go ahead.
I hope you enjoy this dish as much as we did. I'd love to know what you think. Did I get it close to the real thing? Let me know in the comments.
Print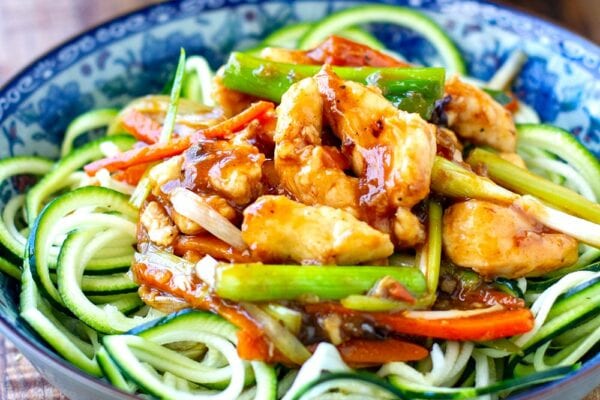 Paleo Mongolian Chicken With Zucchini Noodles
Author:

Prep Time:

30 mins

Cook Time:

15 mins

Total Time:

45 minutes

Yield:

4

1

x

Category:

Main

Method:

Stir-Fry

Cuisine:

Taiwanese
---
Scale
Ingredients
For the sauce
2 tablespoons honey
3 pitted
prunes
, chopped finely
1 teaspoon tomato paste
3 tablespoons lemon juice
1/4 cup water
For the stir-fry
4 garlic cloves, grated or finely diced, crushed
1 teaspoon grated ginger (thumb-size knob)
1/2 long red chilli, sliced finely (seeds removed)
3 spring onions/scallions, cut into 1-2" long pieces (save the greenest ends for garnish)
1 carrot, cut into thirds and then sliced into thin strips
1 celery stalk, sliced into thin strips
For the chicken
500 g / 1 lb chicken breast, sliced into thin strips
1/2 teaspoon salt
1/4 teaspoon pepper (white pepper is ideal)
Oil for cooking (macadamia or coconut are best)
1 zucchini per person for spiralized zoodles
---
Instructions
1. Dice up all the veggies and aromatics for the stir fry and set aside.
2. Prepare the sauce. Combine all ingredients in a bowl and mix well together. If you have a small blender, whiz it up a couple of times or use a spoon or a fork to mash the prunes slightly to incorporate into the sauce. Set aside.
3. Prepare the chicken. Cut the chicken into small strips and arrange on a plate. Sprinkle with salt, pepper and tapioca flour. Using your hands, mix it well making sure as much of the meat is coated in the starch as possible.
Heat 3 tablespoons of cooking oil in a wok or a large frying pan. Once hot, add the chicken and use a stiff spatula the meat apart. Cook over high heat for about 5-6 minutes, stirring every 30 seconds to a minute. Transfer the pre-cooked chicken to a plate and return the wok on the stove.
4. Finish the stir fry. Keeping the heat on high, add the vegetables, garlic, ginger and chill and another tablespoon of cooking oil. Stir fry for 30-45 seconds (keep stirring!) and then add about 1/3 cup of water. It will start to bubble and will soften the sticky bits on the bottom of the pan. Use the spatula to scrape it off and incorporate into the sauce. Add the chicken back in, stir through and pour in the pre-made sauce, which will mix through with any liquid in the pan.
Stir-fry the lot together for another minute or two over high heat allowing the sauce to thicken slightly and the chicken to finish cooking. Remove from heat and serve with spiralled zucchini noodles.
5. To prepare the zoodles, I simply stirred the spiralized zucchini in a hot pan with a little oil until just warmed through. No need to cook through this vegetable or the noodles will turn into a soggy mess. Serve right away.
---
Notes
If you can't find Chinese five spice powder, replace it with a little cinnamon powder, coriander seed powder and star anise all ground up together.